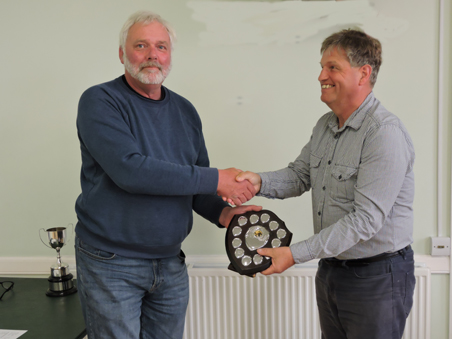 B&DCL Boardman Winners Announced at AGM
The winner of the Div 2 Boardman was Highcliffe's Ken Smith (pictured above) with 8/10. Ken has developed quite a reputation for strong attacking play and he will be key member next season when his team compete in Div 1. Ken just edged out team colleague Rob Halse, also 8/10, on board count.
Div 3 Boardman winner was John Bowley of Wimborne D. John scored 7/9
Richard Smith, Poole (pictured left) was the best point scorer across all 5 Divisions and had a superb season with 9/10 to win Div 4 Boardman. Richard has made huge progress this season.
Paul Bland (Bournemouth C) and Greg Webb (Wimborne G) both scored 6.5 points, but Paul won the Div 5 Boardman with the greater percentage score.
(with thanks to Pete Donaldson who again took on the not inconsiderable task of collecting all trophies and getting them engraved for presentation)
Full details (pl click on box below to enlarge)