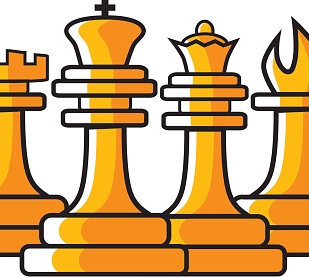 Dorset Junior Chess Friday evening sessions continue – all juniors welcome
After a short break over the Easter holidays, the Dorset Junior Chess sessions on a Friday evening have continued. A few new players have joined recently and we always welcome more, whether a beginner or more experienced player.
Coaching
We continue to run online coaching at 5pm in two virtual rooms to cater for all levels and abilities, the Rookies and the Improvers. The extremely keen Rookies are learning the core chess concepts in one room and the hard working Improvers who are learning the slightly more advanced chess concepts in the other.
This week, 23rd April, the Rookies continued their study with 'The Pin' using a video and some chess exercises.
Whilst at the same time, the Improvers were provided with a coaching session on 'How to take advantage of your opponent's weak opening play' as well as a Chesskid.com video.
Tournament
There was a fun tournament at 5.30pm after the coaching with 9 juniors taking part. Matthew came 1st with Florence & Harry in equal 2nd. Well played all juniors. Whilst the tournaments are being played we encourage the juniors to continue to chat to each other and it is great to see them enjoying themselves.
How To Join In
If you know of any juniors who would be interested in receiving coaching and playing chess then please contact [email protected]. We welcome all junior chess players from across the Dorset and Bournemouth & District chess league catchment areas (and some who are just over the border in Hampshire!) irrespective of your playing ability or your school or chess club affiliation.
Please tell all your school friends and classmates.