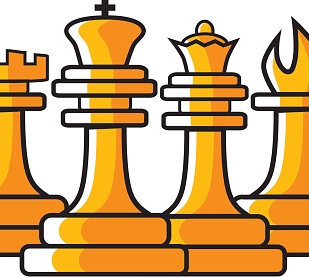 Dorset Junior Chess – Second Friday evening online Chess event attracts even more junior players
This Friday (20th November) saw the very exciting second online chess coaching and tournament. It was great to see an increase in numbers to 13 keen junior players.
The evening started at 5pm with a very enjoyable interactive chess lesson led by Martin Simons on the topic of 'Pins'. Collectively the young players solved a fantastic nine sets of puzzles centred around the concept of 'pins' before the tournament started at 5.20pm. Well done everyone, great work! And thanks to Martin for preparing these.
The tournament, using the Chesskid.com tournament platform, was run over 5 rounds with everyone taking part. There were some interesting battles, including some brother vs sister competition, and a few lost on time such was the close competitiveness. The tournament was won well by Jack, followed by Harry and Lohit in joint second place. But everyone played well, learnt so much and had lots of fun.
Coaches on hand were Andy Baskett, Martin Simons, Martin Clancy with support from Nikki Forster.
These evenings are proving to be very popular and great fun. If you know of any juniors who would be interested then please contact [email protected].
We welcome all junior chess players from across the Dorset and Bournemouth & District chess league catchment areas (and some who are just over the border in Hampshire!) irrespective of your school or chess club affiliation.