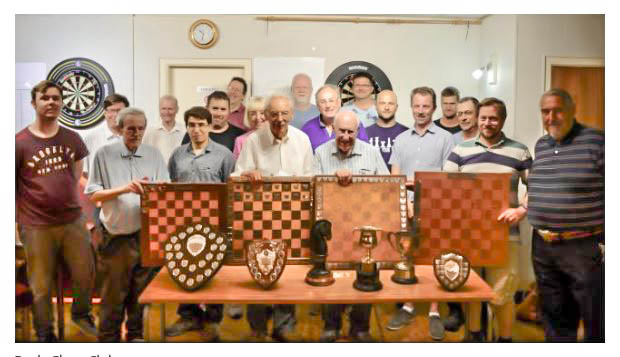 Poole AGM honours members' success in winning 5 trophies in 8 months; Bournemouth Echo report 1 Aug
This photo was taken at the recent Poole AGM. Chair Eric Sachs commented "I would like to mention it is not intended to highlight trophy and glory hunting for Poole; the intention is to record the success and connection with all members at the club and chess in the area to increase the profile".
On behalf of everyone involved with Dorset Chess, many congratulations to Poole on winning more competitions than any other club, in 1 season, in the long history of chess in our county.
Please click on this link to the Bournemouth Echo article which appeared 1 Aug '18: http://www.bournemouthecho.co.uk/news/16391651.poole-chess-club-wins-five-trophies-in-eight-months/