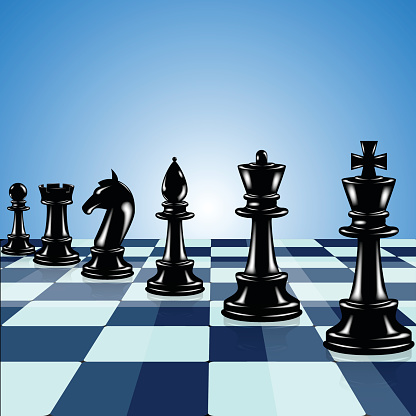 Wimborne B 1.5 Purbeck A 2.5, County Div 2; Brilliant effort from Purbeck falls just short and Wimborne champions
18 Apr. The first Championship of the season was decided after the closest match imaginable. Purbeck needed to win 3-1 and fell just half a point short following a wonderful match, worthy of a final in every respect. Very well done to both teams and special congratulations to Wimborne B on becoming Champions. But all teams in County Div 2, including Dorchester C and Weymouth B played their part in making it a fantastic season and one to remember.
Colin Wilson, Captain of the new County Div 2 Champions was sportingly full of praise for the visiting team, commenting "Tonight's title decider, worthy of a report". Below Colin's report are the reflections of Steve Peirson, the Purbeck Captain. And, of course, Steve was involved in the cliff hanging final game to finish with Mark Littleton. Amazingly, the outcome of the whole County Div 2  season had come down to this last game and it could not have been more dramatic! First though, Colin's report:
Wimborne B and Purbeck A played out a tense and exciting finale to County Division 2, with all to play for right down to the last game and final minutes. Both sides began the evening with a chance to win the title, although the odds were in Wimborne's favour, as Purbeck knew they needed to win by at least 3 to 1. Both teams unsurprisingly fielded strong line ups and were very evenly matched across all four boards. Draws were agreed on boards 2 and 4 before Nicholas Stout  secured an excellent and thoroughly deserved win for Purbeck on Board 3, with barely a minute left on his clock. All now hinged on the outcome of a terrific game on Board 1 with Steve Peirson attacking creatively and relentlessly against a determinedly resolute Mark Littleton. Despite Steve's best efforts a draw was finally agreed which gave Purbeck victory on the night but Wimborne the Division 2 title by a whisker on aggregate. The match was played in an excellent spirit as have been all the games in County Division 2, with Dorchester C and Weymouth B also very much playing their part throughout an enjoyable and closely contested season (written by Wimborne Captain Colin Wilson)
 Now for Steve Peirson's comments:
"What a match! As you know, Purbeck needed to win 3-1 to win the league and halfway through the evening all the games were pretty even. With neither side able to make any progress, draws were agreed on board 2 and, shortly after, on board 4. When Purbeck's Nick Stout won a piece and then the game, that meant everything rested on the board 1 game between Mark and me. I had built up a strong attack on Mark's king and, just before the time control, I sacrificed a pawn and then the exchange but Mark defended well. With us both in time trouble I came out of the complications with just a pawn for the exchange but Mark then blundered a pawn just before the time control. Two connected passed pawns for the exchange gave me some hope but, as the final time control loomed, I returned the favour and lost a pawn. The final twist came when I threatened to get 3 connected passed pawns in the centre of the board but Mark cleverly sacrificed his knight for a pawn leaving R + 2P v B + N + P and no hope for me to make progress so we finally agreed a draw.
So Purbeck won the match but lost the championship with Wimborne's 'goal difference' being 1 better than ours. 
I would like to take this opportunity to congratulate Wimborne on winning the league. The match was played in an excellent spirit – when it was over, both teams gathered around as Mark and I went over our game and we didn't leave until gone 11 pm!"