Dorset is a good choice of county in which to play chess! Over 300 players actively take part in regular club matches and competitions. There are 2 major congresses each year, the Grand and the Dorset Open, plus a Rapidplay held in March. On Sunday, 16 September 2018 the 2nd Dorset Blitz Championships (pictured right)  took place in Furzebrook, Wareham. The Controller was again Steve Peirson. Before that, on Sunday 1 July there was a 1 day Dorset Closed Championships, 33 entrants, 4 sections at Merley, Wimborne. In July & August 2016, the 103rd British Championships were held in Bournemouth, with record individual entries – very much down to the considerable efforts of Dorset Chess Association officials Martin Simons and Ian Clark. Clubs playing in the Dorset County and Bournemouth & District Leagues also gave generous financial support to help enable the event to take place.
Finally, chess for juniors is highly organised including coaching and several congresses. Dorset Junior Chess Officer is Eric Sachs.
Team Handicap KO Cup - 15 Jan '19: Martin Simons announces 1st round draw - holders Poole drawn to play Ringwood
This team competition run by Martin is always close and exciting. The rules are a great leveller! Poole are going for their 3rd success in 3 years, but potentially 7 other teams stand in their way. To see the draw and latest information please click on "Team Handicap KO Cup" on the very top menu bar.
New ECF grades at end of Jan '19 will not affect County & B&D Leagues except for small number of players moving from L grade to A-E
The 24th Dorset Chess Association Rapidplay will use the new grades which are due at the end of Jan '19.
And, as per last year, a very small number of "L" grades may be updated, in County & B&DCL, if they become "A-E" grades. ECF "F" grades are similar to our "L" grades and would be discussed with the club or clubs involved to decide which is the best or fairest grade. A reminder will be given at the end of Jan '19.
"How do Chess Players Think?"....asked Martin Simons in 1998
In the position below it is black to move. What would you play? Try and spend about 10 minutes analysing.
This is taken from a fascinating NewsKnight article 20 years ago written by Martin Simons. Martin was trying to discover how players of different styles and strengths decide which move to play from a given position. He had a panel of 6 players from grade 108 to 194.
The actual match was Panchenko v Speelman (Sochi 1982). On page 6 Martin explains what Jonathan Speelman played and what happened next. Jonathan has been British Champion 3 times and at his peak in January 1989, was the 4th strongest player in the world
The full article, running to 7 pages, can be viewed by going to "How do Chess Players Think?" on the extreme left on the very top menu. Please click on a page to expand. Clicking again may enlarge more. On the 7th and last page, Martin summarises the 9 options that everyone considered.

Martin Clancy gets out of jail!
Martin Clancy (Ringwood) took part in the Hampshire Chess Congress in Fareham, 2-4 Nov '18. He scored a very creditable 50% in a strong Open section. In the last round, he was white against Phil Stimpson (Guildford). The reason for the heading above is that Martin was on the receiving end for much of the game and sensing Paul would win. But as described below by Martin, he managed to escape with a draw in a less than promising position for white. White Martin Clancy, Black Phil Stimpson and white to play
After a successful trial last season all County League & B&DCL results and current league tables appear on the ECF League Management System (LMS). Scores are actually entered by Captains, typically just after matches finish and most often with some comments about the match.
No need to send results to the League Controller thanks. LMS can be accessed by clicking on the red button near the top of this home page and going to "Dorset". For viewing, no password required

Alan Dommett, Mike Waddington, Steve Peirson and Van Geet - follow Alan's Analysis of 4 games from the recent Dorset Closed
Your move as black. White has just played 21. Be1
Mike Waddington (white) v Steve Peirson, Open Championship, Dorset Closed 1 July '18 Merley. Van Geet Opening
The full game is analysed in "Games" by Alan Dommett. Alan comments just before this position that Steve had organised his defence well…. In his own analysis Steve remarks "I was pretty happy after 21 Be1 and Fritz agrees, assessing the position as -0.9. It gives a whole host of moves to maintain an advantage such as Na5, Qc8, Kg8 and g6. It wasn't so keen on my idea of swapping off the rooks but I thought with my slightly weakened king side and his weak c pawn I could either get the queens swapped off or gain control of the d file….."

Alan Dommett analyses a French Defence Exchange Variation, Nick Stout v Richard Ursell, Dorset Closed, Merley 1 July '18
Nick Stout (White) v Richard Ursell in a defining game at the Dorset Closed at Merley 1 July '18. Richard, who went on to become Dorset Major Champion, has just played 7….Be7. Opening: French Exchange Variation. Alan Dommett has analysed this game under "Games" Main Menu, along with 1 game from each of the other 3 sections. In the above game Alan comments "The isolated d-pawn is, all too obviously, taboo (7…Qxd4?? 8.Bb5+) making 7…Nc6 the more natural developing move as it springs the trap, but Black knows this target will not go away and is content to merely safeguard his king as quickly as possible". In fact, Alan's comments became reality late in the game when the impending loss of the d-pawn played a key part in white's later decision to resign.
County League & B&DCL Champions 2018
Many congratulations to all the successful teams!
The Phase 1 ECF League Management System (LMS)
ECF League Management Software (LMS) (updated 13 June '18)
Both the B&DCL AGM at Southbourne 12 June '18 & the Dorset County League 20 June '18 voted to use LMS from the start of season 2018/19 as the system to record results, update league tables and give grading information. The current website will continue as of now, but it will not show 2018/19 results, league tables or grading updates. Niki was sincerely thanked for all she does for Dorset Chess, but it was explained that it was in the best interests of Dorset Chess to use the ECF system which has proved successful. The existing website, will news and events etc will very much continue as of now.
Previous report updated March '18
Dorset has been one of many Associations and Leagues participating in Phase 1 of the ECF League Management System (LMS). This is, of course, running in parallel with the current system of results and league tables on our website. There is a link to ECF LMS, then click "Dorset", on the very top menu. You do not need a password to view information, only to enter results. You will see the system allows for listing fixtures by club and other searches are also possible.
In recent months, Phil Wallace, the LMS Project Leader for Dorset and our Grading Officer, has set up club captains to enter results themselves on LMS and this has been a successful and evolving operation.
Subject to local consultation and agreement, it is proposed to use this software next season to provide the fixtures/results and league tables through an ongoing link from our current website. The B&DCL & County AGM's in June '18 will be asked to decide. We believe this has many advantages and reduces administration time considerably. But we would not run our own system for results and tables in parallel. As Malcolm says on the video link below, it is far quicker to enter a result on LMS than send an email. Many captains have said it takes only 2 minutes.
The software is still being developed all the time so there will, inevitably, be future changes.
Malcolm Peacock is the ECF Officer responsible for the LMS, especially its development. His video is aimed at all those who have been given access to LMS for the first time to enter results and runs for about 12 minutes. Phil Wallace is keen to get any feedback on whether current LMS users feel this might be helpful for anyone about to use LMS for the first time.
Pl click on this link: http://ecflms.org.uk/lms/node/14084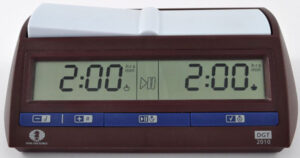 Time Increments with chess clocks (updated 13 June '18)
At both the B&DCL AGM 12 June '18 & the Dorset County League 20 June '18, members voted in Time Increments for B&DCL Div 1 matches in season 2018/19. 1 hour + 30 secs a move for each player. And also agreed Time Increments can be used in B&DCL matches Divs 2, 3 4 & 5 provide both Captains agree in advance, and, of course, digital clocks are available. But this option will not be available 2018/19 for Dorset County League Divs 2 & 3.
Previous notes below:
Time Increments seem a popular way to go currently in all kinds of chess competitions, especially congresses and leagues. So, these brief notes are simply intended to help understanding for anyone wanting to learn more. Sometimes it is known as the "Fischer" system (time increments were added in the privately organised Fischer v Spassky 1992 rematch and quickly became popular – and first introduced by FIDE in a World Championship match in 1998)
What does "Time Increments" mean?
The first requirement is to have available digital clocks, like pictured above and capable of calculating increments. Essentially, it means a specified amount of time, such as 10 seconds is given for each move and this is added to whatever is allocated to each player for the whole game – such as 1 hour
What are the advantages?
It is claimed Time Increments allow players more time to think on each move, improve the quality of play and minimise time scrambles. There is also a perceived benefit of making possible longer games in terms of moves played, but not necessarily with time needed. Time Increments remove the need to apply the controversial "2 minute rule" (this rule allows a player with less than 2 minutes on their clock to claim a draw if the opponent is making no effort to win by normal means, or it is not possible to win by normal means)
What are the disadvantages?
There are views that time scrambles are an exciting feature of the game and managing your time properly is part of the game. Also, games with Time Increments would be slightly faster, in the sense of more moves being played in the time available, and some players may not welcome this
Does it make games last longer?
Not necessarily. Much depends on how much time is allowed for each move. Experience over the years has suggested that most games played with increments are slightly shorter than those with a quick-play finish. For example, if each player had, say, 1 hour each and 15 seconds a move, a game of 36 moves would last no more than 2 hours 18 minutes. It would need an unlikely 120 plus moves to have a chance of going over 3 hours. At time of posting this (21 May), 1hr + 30secs is the preference. It that was adopted a 60 move game would last 3 hrs, 70 moves 3hrs 10 mins and an unusual 90 moves 3hrs 30mins
Would players need to record their moves if time increments are used?
For standard games, players are now required to record all the moves of the game even when they have less than 5 minutes left on their clock if the Time Increment is 30 seconds or more per move. This is clearly an important change, as when there are no Time Increments, FIDE rules state it is permissible to stop recording moves when a player has less than 5 minutes on his or her clock in a time period. The recording of moves in Rapidplay, of course, has never been required.
Are time increments proposed for competitive chess in Dorset?
Since this article was posted there has been interest in trialling Time Increments in both the Dorset County League and also the B&DCL. Discussions have taken place at Committee Meetings of both leagues. No decisions have been made and, in any case, approval would have to be given at the forthcoming AGM's. But the option most preferred is to apply Time Increments with digital clocks across all Division 1 matches in both the County League & B&DCL season 2018/19. And to allow Time Increments to be used below Division 1 in both leagues, but only if both captains agree in advance and on a match by match basis.
Chess is a great game for everyone!
Dorset Chess Association supports and encourages chess playing throughout the county
To view club details and make contact with secretaries etc, please see details by clicking on B&DCL & Dorset League on main menu above. Some clubs have websites and links to these are through the menu at the foot of this home page.
If you seek social and informal chess during the day, the Bournemouth, Southbourne, Poole & Wimborne clubs run sessions typically in café type settings. Please click on "Relaxed and casual chess" below
Relaxed and casual chess locally
You may be interested in more informal chess and there are currently these weekly opportunities: Monday Kinson Community Centre, Kinson 1.45pm to 5pm Tuesday Ludo Lounge, Southbourne Grove, Bournemouth 2.30pm to 5pm; Wednesday Flirt Café Chess Club, Bournemouth 2.30pm to 5pm, also Wednesday Amberwood Inn, Walkford around 8pm; Friday (from 2 Nov '18) Royal British Legion, Wimborne from 10am; Thursday, Highcliffe Community Association Greystones 1.45pm; Thursday, Caffe Tratt, High Street Swanage, 10.15am to 12.15pm; Friday The Crooked Book, Boscombe 11am to 1pm
(There are no board fees, but chess players are expected to buy a drink, i.e tea/coffee/soft drink or something to eat)
Laws of Chess
Here is a link to the FIDE website and the laws of chess: Laws of Chess
The laws run into many pages; listed below are a few of the less understood ones:
Extracts from the FIDE Laws of Chess (as at July '17)
Most recent laws of chess (Jan '18), in which most recent changes highlighted: Laws_of_Chess_2018_-_EB_approved_-_highlighted_correction_version 
Please also refer to the B&DCL Rules (updated June '17) and the Captains Notes, both on the website
Dorset Chess added 4 new photos — at Bournemouth Library
7 months ago