Dorset is a good choice of county in which to play chess! Over 300 players actively take part in regular club matches and competitions. There are 2 major congresses each year, the Grand and the Dorset Open, plus a Rapidplay held in March. On Sunday, 16 September 2018 the 2nd Dorset Blitz Championships (pictured right)  took place in Furzebrook, Wareham. The Controller was again Steve Peirson. Before that, on Sunday 1 July there was a 1 day Dorset Closed Championships, 33 entrants, 4 sections at Merley, Wimborne. In July & August 2016, the 103rd British Championships were held in Bournemouth, with record individual entries – very much down to the considerable efforts of Dorset Chess Association officials Martin Simons and Ian Clark. Clubs playing in the Dorset County and Bournemouth & District Leagues also gave generous financial support to help enable the event to take place.
Finally, chess for juniors is highly organised including coaching and several congresses. Dorset Junior Chess Officer is Eric Sachs.
NewsKnight 1994. Bournemouth win Two Towns and includes junior match. Poole plan weekend in Rouen
NewsKnight was started 25 years ago in Sept 1993, edited by Alan Dommett with Martin Simons as "Technical Adviser & Publicity". In total, it ran for 13 years and 28 editions. These page copies are to celebrate the anniversary and acknowledge what a popular and much enjoyed publication this was

Martin Clancy gets out of jail!
Martin Clancy (Ringwood) took part in the Hampshire Chess Congress in Fareham, 2-4 Nov '18. He scored a very creditable 50% in a strong Open section. In the last round, he was white against Phil Stimpson (Guildford). The reason for the heading above is that Martin was on the receiving end for much of the game and sensing Paul would win. But as described below by Martin, he managed to escape with a draw in a less than promising position for white. White Martin Clancy, Black Phil Stimpson and white to play
3 Nov '18. NewsKnight from 2000 featured this brilliant game, played by Michael Yeo and in which he sacrificed both his knights. Martin Simons reflects on Michael's "glittering 50 years chess career"
One of the attractions of NewsKnight was it included games sent in by Dorset players for analysis by Alan Dommett & Martin Simons and then possible publication. This game was already 20 years old when Alan analysed it, so now goes back nearly 40 years. Many thanks to Martin Simons who researched and added the background on Michael below. Martin and Michael were the early founders of the current Wessex 4NCL team, but only Martin is still playing competitively from the original team back then.
Michael Yeo was one of the strongest players in Dorset chess, from any era, and retired from competitive chess after playing in the 2013 British Chess Championship. His grade for 2014 was 204. Michael played for several clubs including Abbey Life, Lymington and Ringwood. He was a regular participant in the British Championships and also played in 4NCL for Wessex. His involvement with 4NCL went back to the mid 1990's when he was one of the founders along with Martin Simons. It is believed his chess career lasted some 50 years. Many thanks to Martin Simons who researched Michael's chess career and added these comments in conclusion "Mike loved his sharp openings and tactics and was never afraid to slog it out tactically with the top players in the UK, often doing well.  I loved watching his games, more so than my own!  He has had some excellent results against some very strong titled players. He drew with a young IM Julian Hodgson in 1986, beat GM Pia Cramling in 2004 (one of only two women to be a GM before year 2000), and in his last ever British Chess Championships in Torquay in 2013, he drew with GM Tony Kosten, also beating IM Gary Lane and where he scored an excellent 6 out of 11 – so a fitting end to a 50 year glittering chess career."
(Please click on the game below to enlarge; double clicking may enlarge further). It also appears under "Games" from the main menu bar and includes Alan's analysis from 2000
27 Oct. NewsKnight this week is from the start of season 1997/98. Division winners: New Milton A, Merck A, Abbey Life, Merck C.
Celebrating 25 years since NewsKnight started. This NewsKnight page is September 1997. Editor Alan Dommett, Technical Martin Simons + support team production etc. New Milton A Champions the season before. Southbourne's C team finished ahead of their A & B teams. Merck A had dropped to B&D 2, which they won with a 100% score. "Winton Junior Knights" in B&D 4. The Parkstone club was the forerunner of today's Poole. There was a chess problem in the "Bournemouth Daily Echo" every Saturday.
(Please click on image below to enlarge, double clicking bigger again)
25th Anniversary of NewsKnight - Merck A win B&D 1 - Several work based teams - Clubs at Oakdale, Parkstone, Kinson and Lychett Matravers
Many Dorset players will affectionately remember the excellent publication "NewsKnight" edited by Alan Dommett with Martin Simons as "Technical Adviser & Publicity", plus other volunteers involved managing production, proof reading etc. The 1st edition was 25 years ago in September 1993. The front page is reproduced (below) along with the league tables from season 1992/93. It was around the time Nigel Short competed against Gary Kasparov for the World Chess Championship.
NewsKnight ran successfully for 13 years and some 28 editions. It was a wide-ranging publication, but especially focussed on games analysis and was of a very high standard. Of course, in 1993 computer chess programmes were in their infancy and it also pre-dates chess websites. Interesting too, that work based teams do not seem popular anymore today, but in 1993 4 of the top 5 in Division 3 were all work teams.
To celebrate and recognise the 25th anniversary, some extracts from NewsKnight will be re-produced over the coming months on this website.
(Please click on images below to enlarge)
After a successful trial last season all County League & B&DCL results and current league tables appear on the ECF League Management System (LMS). Scores are actually entered by Captains, typically just after matches finish and most often with some comments about the match.
No need to send results to the League Controller thanks. LMS can be accessed by clicking on the red button near the top of this home page and going to "Dorset". For viewing, no password required

Sunrise on a new chess season!
Wishing your club a very successful new season!
Just a few quick comments to try and help
Phil has set up LMS and all ready to go
LMS. The new ECF League Management System can be accessed by clicking on the red button at the top of this page. As you know, all County and B&D results should be entered by Captains, and no longer sent to the Controller. Phil Wallace, email: [email protected] can give Captains access to LMS. When entering a result there is a box for comments and Captains are requested to put in a few appropriate remarks about the match to add interest. Unlike last season, results and league tables will not be duplicated elsewhere on the website, so continued quick reporting and verifying would be really appreciated and is very much what clubs and their members want.
Fixtures The consultation period for fixtures, which started in July, has now been completed and there is a version 10 (v10) under "Info 2018/19" off the main menu of both Leagues. This will be kept up to date through the season. But the main source of fixtures is LMS itself and Phil has now entered all these matches on LMS. In B&D Div 5 the "High Milton" team is a joint venture between the Highcliffe and New Milton clubs and both are commended on this innovation.
Info 2018/19 There are a few documents here to try and assist, including revised "Captain's Notes", contact details of Captains and the Player Allocations file. The latter will be updated weekly, usually on a Saturday morning
Time Increments Reminder these are to be used in Div 1 of both County and B&D Leagues, 1hr and 30 secs a move. Also agreed use in remaining Divs of B&D, but providing Captains have agreed in advance.
Grades Because of LMS, we will now depend on it for current grades by individual and club, and these will not be shown elsewhere on the website
Baccus An initial single round of fixtures is being worked on and will be issued shortly. Teams from: Wimborne, Highcliffe, Bournemouth & Poole (2 teams).
Good luck and best wishes!
Mike
14 Sept '18
Ambitious Wessex seeking new players as they expand in the 4NCL (article below written by Keith Gregory)

4NCL – Wessex Team – recruiting for 2018-2019
Most players will have heard of the 4NCL (4 Nations Chess League) which has been running since 1993 and is simply *the* premier chess tournament in the UK with approximately 800 players competing across 4 divisions in teams of 8 (div 1 & div 2) or teams of 6 (div 3 & div 4) over 5 weekends from November through to May.
Div 1 is full of GMs – see the team listing for the final round of last season below where a team averaging 2499 was demolished!

Cheddleton 1
2499
Guildford 1
2635
111
w
Howell, David W L
g
2699
½ – ½
Jones, Gawain C B
g
2675
112
b
Hawkins, Jonathan
g
2589
½ – ½
Cheparinov, Ivan
* g
2702
113
w
Fodor, Tamas Jr.
g
2503
½ – ½
Sadler, Matthew D
g
2693
114
b
Eggleston, David J
i
2407
0 – 1
Edouard, Romain
g
2623
115
w
Kirk, Ezra
f
2420
½ – ½
Fressinet, Laurent
g
2651
116
b
Williams, Simon K
g
2460
0 – 1
Le Roux, Jean-Pierre
g
2554
117
w
Arkell, Keith C
g
2416
½ – ½
Pert, Nicholas
g
2547
118
b
Steil-Antoni, Fiona
wi
2196
0 – 1
Stefanova, Antoaneta
g
2479
2½ – 5½
Div 2, 3 & 4 however are a lot more accessible for club players such as ourselves
Wessex currently run an "A team" in Div 2 (following promotion from Div 3 last season) which will range from around 185 => 200 ECF – it will be tough in Div 2 and we're hoping to stay up !
We will run further teams in Div 4 i.e.
 a  "B team" which will run from 150 => 184 ECF and push strongly for promotion to Div 3
a C team which will be for any standard from ECF 50 upwards (so enthusiasm is more important than current ECF grade) – it's unlikely the C team will be promoted although they will have competitive matches since Div 4 operates as a "Swiss System" tournament
For next season the fixtures will take place across 5 weekends spread from November 2018 through to May 2019  – typically Saturday & Sunday , one game per day
=> all fixtures are at luxurious hotels for which we get very good room rates for those wishing to stay over. We are a friendly team so most people do this and take advantage of the restaurant & bar on Saturday evening for food, drink and friendly informal coaching / banter / celebrations / commiserations 🙂
The majority of the players come from the Portsmouth, Southampton & Bournemouth chess leagues so there is a real camaraderie / team spirit – I've personally known some of the other players for 40 years or more !
We run as a squad so you don't have to play every weekend and we can rotate players depending on availability & enthusiasm to play
One of our "new recruits" last season has seen his ECF chess grade soar and thinks that 4NCL has been good for his chess as well as highly enjoyable
So…..if you (or a friend / colleague) are interested in playing and/or want more info – please contact the Wessex captain, Keith Gregory on 07867-555613 or [email protected]
Although I've mentioned a bar there are many juniors playing in this league so juniors are also very welcome – we expect to have at least 3 juniors playing in the various Wessex teams next season so more are welcome
Thanks for your time & attention reading this.
Regards,
Keith Gregory   28 Aug '18

Ian Clark's inspired play in Dorset Open "one of his best ever games"
Peter Anderson is a strong player who has recently relocated to live near Ringwood and the County is very fortunate he has taken part in a number of local congresses. Here, in the 2nd round of the Dorset Open (1 July, Merley) he was unlucky enough to meet an in-form Ian Clark in sacrificial mode. Analysis by the winner. In his notes, Ian commented he thought it was one of the best games he has ever played

Alan Dommett, Mike Waddington, Steve Peirson and Van Geet - follow Alan's Analysis of 4 games from the recent Dorset Closed
Your move as black. White has just played 21. Be1
Mike Waddington (white) v Steve Peirson, Open Championship, Dorset Closed 1 July '18 Merley. Van Geet Opening
The full game is analysed in "Games" by Alan Dommett. Alan comments just before this position that Steve had organised his defence well…. In his own analysis Steve remarks "I was pretty happy after 21 Be1 and Fritz agrees, assessing the position as -0.9. It gives a whole host of moves to maintain an advantage such as Na5, Qc8, Kg8 and g6. It wasn't so keen on my idea of swapping off the rooks but I thought with my slightly weakened king side and his weak c pawn I could either get the queens swapped off or gain control of the d file….."

Alan Dommett analyses a French Defence Exchange Variation, Nick Stout v Richard Ursell, Dorset Closed, Merley 1 July '18
Nick Stout (White) v Richard Ursell in a defining game at the Dorset Closed at Merley 1 July '18. Richard, who went on to become Dorset Major Champion, has just played 7….Be7. Opening: French Exchange Variation. Alan Dommett has analysed this game under "Games" Main Menu, along with 1 game from each of the other 3 sections. In the above game Alan comments "The isolated d-pawn is, all too obviously, taboo (7…Qxd4?? 8.Bb5+) making 7…Nc6 the more natural developing move as it springs the trap, but Black knows this target will not go away and is content to merely safeguard his king as quickly as possible". In fact, Alan's comments became reality late in the game when the impending loss of the d-pawn played a key part in white's later decision to resign.
Possible County & B&DCL League Structures 2018/19 (subject to AGM's etc)
As promised at the June County & B&DCL AGM's, a 1st draft of the fixtures will appear on the website by the end of July. Then feedback very welcome to try and get them right for when the season starts mid-Sept. Fully understand some AGM's still to take place and it may change things – no problem to make later adjustments if this is the case. So below are the divisions with known and some assumed information at 12 July. Many thanks. Mike
County Div 1
Dorchester A
Poole A
Wimborne A
Weymouth A
Ringwood
County Div 2
Wimborne B
Dorchester B
Dorchester C
Highcliffe
Purbeck A
Weymouth B
County Div 3
Poole B
Wimborne C
Wimborne D
Dorchester D
Purbeck B
B&DCL Div 1
Poole A
Poole B
Highcliffe A
Southbourne A
Southbourne B
Wimborne A
B&DCL Div 2
Wimborne B
Wimborne C
Bournemouth A
New Milton A
Poole C
Ringwood A
B&DCL Div 3
Bournemouth B
Wimborne D
Southbourne C
Highcliffe B
Poole D
Ringwood B
B&DCL Div 4 (as at 2 Aug now 5 teams as Wimborne will be entering 1 team, not 2 in this Div)
New Milton B
Southbourne D
Wimborne E
Poole E
Southbourne E
B&DCL Div 5 (there is a vacancy for another team in this Div)
Highcliffe C
Purbeck
Bournemouth C (not confirmed)
Wimborne F
Poole F
Bacchus (East)
Poole
Highcliffe
New Milton
Wimborne
Bournemouth (not confirmed)
Bacchus (West)
Purbeck (not expected)
Dorchester
Weymouth
County League & B&DCL Champions 2018
Many congratulations to all the successful teams!
The Phase 1 ECF League Management System (LMS)
ECF League Management Software (LMS) (updated 13 June '18)
Both the B&DCL AGM at Southbourne 12 June '18 & the Dorset County League 20 June '18 voted to use LMS from the start of season 2018/19 as the system to record results, update league tables and give grading information. The current website will continue as of now, but it will not show 2018/19 results, league tables or grading updates. Niki was sincerely thanked for all she does for Dorset Chess, but it was explained that it was in the best interests of Dorset Chess to use the ECF system which has proved successful. The existing website, will news and events etc will very much continue as of now.
Previous report updated March '18
Dorset has been one of many Associations and Leagues participating in Phase 1 of the ECF League Management System (LMS). This is, of course, running in parallel with the current system of results and league tables on our website. There is a link to ECF LMS, then click "Dorset", on the very top menu. You do not need a password to view information, only to enter results. You will see the system allows for listing fixtures by club and other searches are also possible.
In recent months, Phil Wallace, the LMS Project Leader for Dorset and our Grading Officer, has set up club captains to enter results themselves on LMS and this has been a successful and evolving operation.
Subject to local consultation and agreement, it is proposed to use this software next season to provide the fixtures/results and league tables through an ongoing link from our current website. The B&DCL & County AGM's in June '18 will be asked to decide. We believe this has many advantages and reduces administration time considerably. But we would not run our own system for results and tables in parallel. As Malcolm says on the video link below, it is far quicker to enter a result on LMS than send an email. Many captains have said it takes only 2 minutes.
The software is still being developed all the time so there will, inevitably, be future changes.
Malcolm Peacock is the ECF Officer responsible for the LMS, especially its development. His video is aimed at all those who have been given access to LMS for the first time to enter results and runs for about 12 minutes. Phil Wallace is keen to get any feedback on whether current LMS users feel this might be helpful for anyone about to use LMS for the first time.
Pl click on this link: http://ecflms.org.uk/lms/node/14084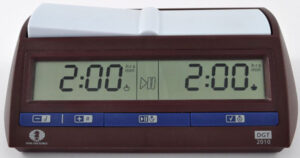 Time Increments with chess clocks (updated 13 June '18)
At both the B&DCL AGM 12 June '18 & the Dorset County League 20 June '18, members voted in Time Increments for B&DCL Div 1 matches in season 2018/19. 1 hour + 30 secs a move for each player. And also agreed Time Increments can be used in B&DCL matches Divs 2, 3 4 & 5 provide both Captains agree in advance, and, of course, digital clocks are available. But this option will not be available 2018/19 for Dorset County League Divs 2 & 3.
Previous notes below:
Time Increments seem a popular way to go currently in all kinds of chess competitions, especially congresses and leagues. So, these brief notes are simply intended to help understanding for anyone wanting to learn more. Sometimes it is known as the "Fischer" system (time increments were added in the privately organised Fischer v Spassky 1992 rematch and quickly became popular – and first introduced by FIDE in a World Championship match in 1998)
What does "Time Increments" mean?
The first requirement is to have available digital clocks, like pictured above and capable of calculating increments. Essentially, it means a specified amount of time, such as 10 seconds is given for each move and this is added to whatever is allocated to each player for the whole game – such as 1 hour
What are the advantages?
It is claimed Time Increments allow players more time to think on each move, improve the quality of play and minimise time scrambles. There is also a perceived benefit of making possible longer games in terms of moves played, but not necessarily with time needed. Time Increments remove the need to apply the controversial "2 minute rule" (this rule allows a player with less than 2 minutes on their clock to claim a draw if the opponent is making no effort to win by normal means, or it is not possible to win by normal means)
What are the disadvantages?
There are views that time scrambles are an exciting feature of the game and managing your time properly is part of the game. Also, games with Time Increments would be slightly faster, in the sense of more moves being played in the time available, and some players may not welcome this
Does it make games last longer?
Not necessarily. Much depends on how much time is allowed for each move. Experience over the years has suggested that most games played with increments are slightly shorter than those with a quick-play finish. For example, if each player had, say, 1 hour each and 15 seconds a move, a game of 36 moves would last no more than 2 hours 18 minutes. It would need an unlikely 120 plus moves to have a chance of going over 3 hours. At time of posting this (21 May), 1hr + 30secs is the preference. It that was adopted a 60 move game would last 3 hrs, 70 moves 3hrs 10 mins and an unusual 90 moves 3hrs 30mins
Would players need to record their moves if time increments are used?
For standard games, players are now required to record all the moves of the game even when they have less than 5 minutes left on their clock if the Time Increment is 30 seconds or more per move. This is clearly an important change, as when there are no Time Increments, FIDE rules state it is permissible to stop recording moves when a player has less than 5 minutes on his or her clock in a time period. The recording of moves in Rapidplay, of course, has never been required.
Are time increments proposed for competitive chess in Dorset?
Since this article was posted there has been interest in trialling Time Increments in both the Dorset County League and also the B&DCL. Discussions have taken place at Committee Meetings of both leagues. No decisions have been made and, in any case, approval would have to be given at the forthcoming AGM's. But the option most preferred is to apply Time Increments with digital clocks across all Division 1 matches in both the County League & B&DCL season 2018/19. And to allow Time Increments to be used below Division 1 in both leagues, but only if both captains agree in advance and on a match by match basis.
Chess is a great game for everyone!
Dorset Chess Association supports and encourages chess playing throughout the county
To view club details and make contact with secretaries etc, please see details by clicking on B&DCL & Dorset League on main menu above. Some clubs have websites and links to these are through the menu at the foot of this home page.
If you seek social and informal chess during the day, the Bournemouth, Southbourne, Poole & Wimborne clubs run sessions typically in café type settings. Please click on "Relaxed and casual chess" below
Relaxed and casual chess locally
You may be interested in more informal chess and there are currently these weekly opportunities: Monday Kinson Community Centre, Kinson 1.45pm to 5pm Tuesday Ludo Lounge, Southbourne Grove, Bournemouth 2.30pm to 5pm; Wednesday Flirt Café Chess Club, Bournemouth 2.30pm to 5pm, also Wednesday Amberwood Inn, Walkford around 8pm; Friday (from 2 Nov '18) Royal British Legion, Wimborne from 10am; Thursday, Highcliffe Community Association Greystones 1.45pm; Thursday, Caffe Tratt, High Street Swanage, 10.15am to 12.15pm; Friday The Crooked Book, Boscombe 11am to 1pm
(There are no board fees, but chess players are expected to buy a drink, i.e tea/coffee/soft drink or something to eat)
Laws of Chess
Here is a link to the FIDE website and the laws of chess: Laws of Chess
The laws run into many pages; listed below are a few of the less understood ones:
Extracts from the FIDE Laws of Chess (as at July '17)
Most recent laws of chess (Jan '18), in which most recent changes highlighted: Laws_of_Chess_2018_-_EB_approved_-_highlighted_correction_version 
Please also refer to the B&DCL Rules (updated June '17) and the Captains Notes, both on the website