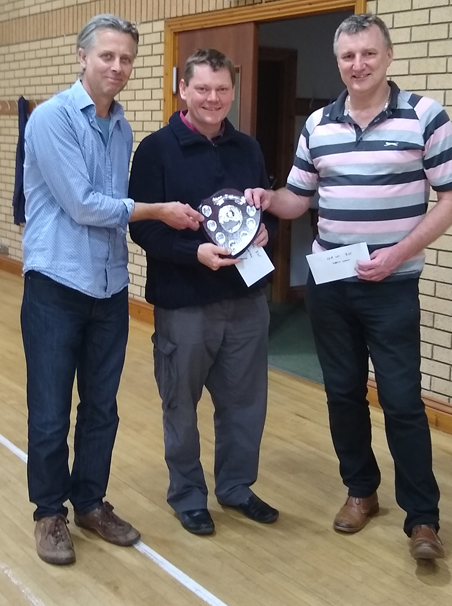 2nd Dorset Blitz – 30 competitors & big success; Further Steve report + cross-tables + photo links
Organiser Steve Peirson reports on a most successful day on Sun 16 Sept '18 at Furzebrook, nr Wareham
"Everything went very well – we had 3 groups of 10 players and we extended the time limit to 10 mins + 5 sec increment. These are the prize winners:- 
Group A (please see main photo at head of this page – from the left Mark Littleton, Paul Hampton, Martin Simons)
1st =  Paul Hampton, Mark Littleton and Martin Simons – £25 each
Grading prize (U-180)  Grzegorz Sawicki – £20
 Group B
1st  Ronnie Burton – £50
2nd Martin Clancy – £25
Grading prize (U-140) Richard Smith – £20
Group C
1st Thomas Trach – £50
2nd = Simon Bown, Ray Hunt,  Derek Mount – £10 each
Grading prize= Tim McCullagh, Christine Roberts – £10 each
Best veteran Derek Mount – £20
Best junior Ted Paul – £20
In the meantime, well done to all those who took part and many congratulations to the various winners. And special thanks to the principal organiser, Steve Peirson, who worked tirelessly over several months to make it a success. And also commendations to Martin Simons who contributed significantly with several aspects of the competition, including his renowned hot dishes at lunch 
=========================
Mon 17 Sept 7.30pm
Steve has uploaded to the website this follow-on report and below that the 3 results tables.  There are also lots more photos and there are now links to these
Despite a slow start, we ended up with 30 players – the same as last year. We were able to split them into 3 groups of 10 so we made the decision to have 9 rounds rather than the advertised 11. As we wanted the players to have essentially the same amount of chess as they would have had over 11 rounds, we increased the time limit from 5 mins + 5 secs to 10 mins + 5 secs.  
Group C was closely fought with Thomas Trach winning his last round game to finish just half a point ahead of Ray Hunt, Simon Bown and Derek Mount who tied for second place. Group B was a two-horse race but Ronnie Burton's last round win against his closest rival Martin Clancy gave him first place with a magnificent 8 / 9 with Martin finishing second on 6 / 9. Group A was another close finish with 5 players all in with a chance going into the last round. Martin Simons agreed a quick draw with Keith Gregory and waited to see if anyone else could catch him. Paul Hampton beat Peter Anderson in the clash between the top two seeds to draw level with Martin and then Mark Littleton mated Allan Pleasants to also tie for first.
 I'd like to thank Martin Simons, not only for the fantastic food he lays on at lunchtime, but also for his support and advice in the run up to the tournament. Thanks also to Mike Jay for his support on the website – he did a great job advertising the event and the list of entrants was always up to date. Just two more to go… thanks to Derek Mount for helping me setup the tables and chairs and to Richard Ursell for taking the photos of the prize-giving.
 Finally I'd like to thank all the players for turning up and making it a successful event – I look forward to seeing you all next year.
Steve Peirson, 2nd Blitz Organiser posted 17 Sept '18
==================
Please click on these links for photos of the 3 Groups plus Junior Winner, Ted (well done to Steve Peirson for taking all these, but when it came to the presentation, Richard Ursell stepped up, so thanks too to him)
A Group: https://mikejay.smugmug.com/2nd-Dorset-Blitz-16-Sept-18-Group-A-Photos/
B Group: https://mikejay.smugmug.com/2nd-Dorset-Blitz-16-Sept-18-Group-B-Photos/
C Group: https://mikejay.smugmug.com/2nd-Dorset-Blitz-16-Sept-18-Group-C/
Junior Winner: https://mikejay.smugmug.com/2nd-Dorset-Blitz-16-Sept-18-Junior-Winner/
Results – Group A 
| | | | | | | | | | | | | |
| --- | --- | --- | --- | --- | --- | --- | --- | --- | --- | --- | --- | --- |
|   | Player | Rd 1 | Rd 2 | Rd 3 | Rd 4 | Rd 5 | Rd 6 | Rd 7 | Rd 8 | Rd 9 | Total | Pos |
| 1 | Paul Hampton (193) | 1 7 | 1 9 | 1 4 | 1 10 | 0 8 | 0 5 | 0 3 | 1 6 | 1 2 | 6 | 1= |
| 2 | Peter Anderson (192) | ½ 10 | 1 5 | ½ 12 | ½ 6 | 1 4 | 0 8 | 0 7 | 1 9 | 0 1 | 4 ½ | 6 |
| 3 | Ian Clark (191) | 1 4 | 0 6 | ½ 2 | 1 7 | 0 5 | 1 9 | 1 1 | 0 10 | 1 8 | 5 ½ | 4 |
| 4 | Allan Pleasants (190) | 0 3 | ½ 8 | 0 1 | ½ 5 | 0 2 | 1 10 | 1 9 | 0 7 | 0 6 | 3 | 8 |
| 5 | Martin Simons (185) | ½ 9 | 0 2 | 1 10 | ½ 4 | 1 3 | 1 1 | ½ 6 | 1 8 | ½ 7 | 6 | 1= |
| 6 | Mark Littleton (181) | 1 8 | 1 3 | 0 9 | ½ 2 | 1 10 | 1 7 | ½ 5 | 0 1 | 1 4 | 6 | 1= |
| 7 | Keith Gregory (177) | 0 1 | 1 10 | 0 8 | 0 3 | 0 9 | 0 6 | 1 2 | 1 4 | ½ 5 | 3 ½ | 7 |
| 8 | Grzegorz Sawicki (175) | 0 6 | ½ 4 | 1 7 | 1 9 | 1 1 | 1 2 | ½ 10 | 0 5 | 0 3 | 5 | 5 |
| 9 | John Weatherlake (175) | ½ 5 | 0 1 | 1 6 | 0 8 | 1 7 | 0 3 | 0 4 | 0 2 | ½ 10 | 3 | 8 |
| 10 | William Adaway (163) | ½ 2 | 0 7 | 0 5 | 0 1 | 0 6 | 0 4 | ½ 8 | 1 3 | ½ 9 | 2 ½ | 10 |
Results – Group B 
| | | | | | | | | | | | | |
| --- | --- | --- | --- | --- | --- | --- | --- | --- | --- | --- | --- | --- |
|   | Player | Rd 1 | Rd 2 | Rd 3 | Rd 4 | Rd 5 | Rd 6 | Rd 7 | Rd 8 | Rd 9 | Total | Pos |
| 1 | Ronnie Burton (154) | ½ 7 | 1 9 | 1 4 | 1 10 | 1 8 | 1 5 | 1 3 | ½ 6 | 1 2 | 8 | 1 |
| 2 | Martin Clancy (152) | 1 10 | 1 5 | ½ 3 | 1 6 | 1 4 | 0 8 | ½ 7 | 1 9 | 0 1 | 6 | 2 |
| 3 | Joergen Nielsen (150) | 0 4 | 1 6 | ½ 2 | 0 7 | ½ 5 | 1 9 | 0 1 | 1 10 | 0 8 | 4 | 6 |
| 4 | Paul Jackson (149) | 1 3 | 0 8 | 0 1 | 0 5 | 0 2 | ½ 10 | 0 9 | 0 7 | ½ 6 | 2 | 10 |
| 5 | Richard Ursell (142) | 1 9 | 0 2 | ½ 10 | 1 4 | ½ 3 | 0 1 | 1 6 | 1 8 | 0 7 | 5 | 4 |
| 6 | Peter Manning (142) | 1 8 | 0 3 | ½ 9 | 0 2 | 0 10 | 1 7 | 0 5 | ½ 1 | ½ 4 | 3 ½ | 7= |
| 7 | Steve Pollyn (140e) | ½ 1 | ½ 10 | ½ 8 | 1 3 | 0 9 | 0 6 | ½ 2 | 1 4 | 1 5 | 5 | 4 |
| 8 | Richard Smith (137) | 0 6 | 1 4 | ½ 7 | 1 9 | 0 1 | 1 2 | 1 10 | 0 5 | 1 3 | 5 ½ | 3 |
| 9 | Paul Errington (130) | 0 5 | 0 1 | ½ 6 | 0 8 | 1 7 | 0 3 | 1 4 | 0 2 | 0 10 | 2 ½ | 9 |
| 10 | John Harris (128) | 0 2 | ½ 7 | ½ 5 | 0 1 | 1 6 | ½ 4 | 0 8 | 0 3 | 1 9 | 3 ½ | 7= |
 Results – Group C 
| | | | | | | | | | | | | |
| --- | --- | --- | --- | --- | --- | --- | --- | --- | --- | --- | --- | --- |
|   | Player | Rd 1 | Rd 2 | Rd 3 | Rd 4 | Rd 5 | Rd 6 | Rd 7 | Rd 8 | Rd 9 | Total | Pos |
| 1 | Ray Hunt (128) | 1 7 | 1 9 | 0 4 | 1 10 | ½ 8 | 1 5 | 1 3 | ½ 6 | ½ 2 | 6 ½ | 2= |
| 2 | Adam Jaggard (122) | ½ 10 | 0 5 | 1 3 | 0 6 | ½ 4 | 0 8 | 1 7 | 1 9 | ½ 1 | 4 ½ | 6 |
| 3 | Richard Quin (118) | 0 4 | 1 6 | 0 2 | ½ 7 | 0 5 | 1 9 | 0 1 | 1 10 | 0 8 | 3 ½ | 7 |
| 4 | Simon Bown (117) | 1 3 | 1 8 | 1 1 | 0 5 | ½ 2 | 1 10 | 1 9 | 1 7 | 0 6 | 6 ½ | 2= |
| 5 | Derek Mount (116) | 1 9 | 1 2 | 1 10 | 1 4 | 1 3 | 0 1 | ½ 6 | 0 8 | 1 7 | 6 ½ | 2= |
| 6 | Ted Paul (110) | 0 8 | 0 3 | 0 9 | 1 2 | 1 10 | 1 7 | ½ 5 | ½ 1 | 1 4 | 5 | 5 |
| 7 | Christine Roberts (108) | 0 1 | 1 10 | 0 8 | ½ 3 | 1 9 | 0 6 | 0 2 | 0 4 | 0 5 | 2 ½ | 8= |
| 8 | Thomas Trach (96) | 1 6 | 0 4 | 1 7 | ½ 9 | ½ 1 | 1 2 | 1 10 | 1 5 | 1 3 | 7 | 1 |
| 9 | Tim McCullagh (86) | 0 5 | 0 1 | 1 6 | ½ 8 | 0 7 | 0 3 | 0 4 | 0 2 | 1 10 | 2 ½ | 8= |
| 10 | David Lane (84) | ½ 2 | 0 7 | 0 5 | 0 1 | 0 6 | 0 4 | 0 8 | 0 3 | 0 9 | ½ | 10 |