Bulletin No.82 – B&DCL 'Team and Individual' Rolls of Honour
As we approach the start of the new B&DCL 2021/22 league season and the first set of fixtures this week, it seemed appropriate to:
Round off the truncated 2019/20 season with a summary of the results and presentations
Step back in time and reveal the tables of all the team and individual winners of each B&DCL division since local league chess commenced back in 1950, some 70 years ago! These tables of winners have also been added to the 'Archives' section to build upon the history held there.
We have included a few quiz questions. The answers are given at the end of the article and can be worked out from each table of divisional winners!
2019/20 B&DCL Divisional League Winners
As we all know, there were no league matches or winners for the 2020/21 season due to the Covid pandemic but it was agreed by the B&DCL Committee in August 2021 to recognise winners for the 2019/20 season. All the photos were taken within the last month.
Division One Champions – Southbourne A
Pictured below (L to R) are three of the Southbourne A players with the Division One trophy (board).
Between them, Jon Catchpole, Russ Pegg and Martin Simons have been members of Southbourne Chess Club for a combined total of in excess of 130 years!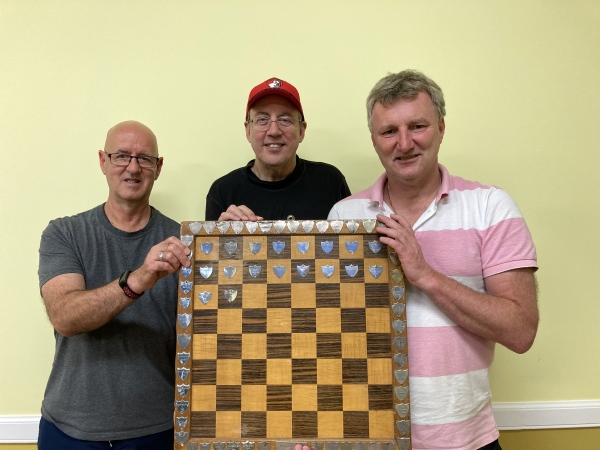 Division Two Champions – New Milton A
Pictured below (L to R) are Peter Manning, David Bradley-Brock, John Belinger (captain) and Reenen Du Toit. We welcome the return of New Milton to the top flight and guess who they are playing in their first match this season? Answer: The team above!
Division Three, Four & Five Champions – Poole C, Poole D & Poole E
Pictured below (L to R) are:
Div 3 – Tarik Reghif (C team Captain)
Div 4 – Mike Rutter (D team Captain)
Div 5 – Joe Wood, on behalf of Christine Roberts (E team Captain)
Past B&DCL Winners
Below are the tables of:
all the B&DCL team divisional winners over the years.
nearly all B&DCL individual winners of the Brien Urry Cup and Boardman trophies. We are still in the process of recovering a couple of trophies.
You might like to have a crack at the following questions before reading the table, or you might like to have a peek! The answers are at the end of the bulletin.
Quiz Questions
How many different clubs have won the B&DCL 1st Division? Is it 12, 14, 16, 18 or 20?
How many different clubs have won any B&DCL Division? Is it 23, 27, 31, 35 or 39?
Which club has won the 1st Division the most? Is it Kinson, Knights, Parkstone, Southbourne, Wimborne?
How many seasons has there been a 5th Division? Is it 5, 6, 7, 8 or 9?
How many different schools have won a divisional championship? Is it 3, 4, 5, 6 or 7?
Whose name appears most times in the B&DCL individual winners table?
B&DCL Team Trophy Winners
B&DCL Individual Trophy Winners
Quiz Answers
14 clubs have won Div 1: Bournemouth, Boscombe, Christchurch, Kinson, Knights, Lymington, Merck, New Milton, Oakmeadians/Oakdale, Parkstone, Poole, Portcastrians, Southbourne & Wimborne.
31 clubs have won a division: the above 14 plus Abbey Life, Aerograph, Barclays, BDH, Brockenhurst, Bournemouth School, Canford Heath, Ferndown, Ferndown School (also covering Ferndown), Frizzell, Highcliffe, Lytchett Matravers, Oakmead School, Plessey Wessex, Portchester School, Queen Elizabeth, Ringwood & St Peters School.
The most winners of Div 1 are Southbourne who have won it 19 times. Knights and Parkstone have won it 10 times each.
There has been a Division 5 in six years: 2010, 2011, 2012, 2018, 2019, 2020.
There have been 6 schools that have won a division: Bournemouth School, Ferndown School, Oakmead School, Portchester School, Queen Elizabeth School & St Peters School.
Pete Wilcock has won the most individual titles, appearing four times in the B&DCL Individual winners table. He won the 2nd division trophy in 2011 & 2013, and the 3rd division trophy in 2003 & 2004.