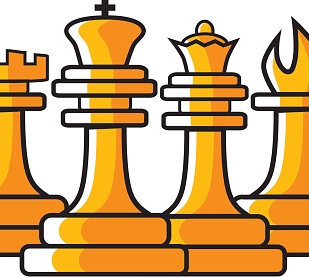 Dorset Junior Chess – 12th March online Chess event
This Friday, 12th March saw another excellent and fun, flagship Dorset Junior Chess Friday evening with online chess coaching and tournament. This regular Friday evening event continues to grow in popularity and is becoming the highlight of the week for many of the juniors, even despite the re-opening of schools this week.
Coaching
We continue to run online coaching in two virtual rooms to cater for all levels and abilities, the Rookies
and the Improvers.
This week, in one virtual room, the keen Rookies studied hanging pieces using a Chesskid.com video and some chess exercises. They quickly mastered this skill and started to move onto the concept of counting pieces which is an extension of the concept of hanging pieces.
In the other virtual room, the Improvers continued to expand their chess expertise by with a coaching session on 'Middle game plans' as well as a Chesskid video.
Tournament
After the coaching sessions, there was a Chesskid.com tournament to round off an enjoyable evening. 12 juniors participated with:
Florence in 1st place
Jack & William in equal 2nd.
Well played all juniors who took part. There were some very competitive games played which illustrates how rapidly the juniors are progressing.
Join Us!
These evenings continue to be very popular. If you know of any juniors who would be interested then please contact [email protected].
We welcome all junior chess players from across the Dorset and Bournemouth & District chess league catchment areas (and some who are just over the border in Hampshire!) irrespective of your playing ability or your school or chess club affiliation.
Please tell all your school friends and classmates!