Bulletins 1 to 20 – Martin Simons reflects on 30 articles, 61 puzzles & 2 Towns
(Pictured above Martin Simons, Chair B&DCL and DCCA Executive Committee member. He has been the inspiration behind all the website "Bulletins" & "Dorset Chess Chats" over the last 2 months, providing interest and information during lockdown. They have required a huge amount of research and we are all very grateful to Martin. Also, as several readers have observed, Martin has effectively created, for the first time, an invaluable history of the Bournemouth & District and County Leagues, not just for us to enjoy at this point in time, but also for future chess generations.
Peter Anderson, who takes over as Webmaster from next Monday, has been producing the puzzles – a most demanding daily task and an impressive 61 so far!)
Website Bulletin No.20 – Bits & Pieces by Martin Simons
Thank You
A big thank you to all those who have contributed enormously towards making the 20 Website Bulletins informative and interesting over the past two months. I would also like to thank Mike Jay for the 10 Dorset Local Chat articles (last one to be published on Saturday), and Peter Anderson for the daily chess puzzles which have not been easy jobs! Both Mike and Peter have worked tirelessly to support the website. I have very much enjoyed researching the background behind each club's history and some of the history of the B&DCL and Dorset leagues for the Bulletins. Hopefully by providing the 30 combined articles and 61 puzzles in the last two months we have also helped to keep the website vibrant, entertaining and interesting during the Lockdown period.

Did you know? – Two Towns Matches
An annual Two Towns Bournemouth v Poole Match has been held since 1985, so 35 matches in total. It is always seen as the fun and friendly curtain raiser to each new season and is much enjoyed by a great turnout of approximately 60 players. These players are frequently heard commenting that it is a very sociable event and a great opportunity to renew friendships. To keep the matches less serious, they are not graded, but there is an option for the winner to buy the loser a pint or is that the other way around!
Prior to 1985, there was an annual match between Bournemouth (B&DCL) and Southampton (Southampton Chess League) but sadly Southampton had to pull out as it struggled to raise a team.
In the subsequent Bournemouth v Poole matches, there have been some very exciting, close contests, often going down to the last individual game to finish. In fact, some of these matches have been so incredibly close that they have been tied on four occasions in 1991, 1992, 1999 and 2001. Bournemouth have been winners on 18 occasions and Poole on 13. Pictured below is the victorious Poole captain, Eric Sachs, receiving the trophy in 2018 but can you identify the welcome gate crasher in the background who is perhaps holding something far more interesting?
.
Unfortunately, this annual fun event is likely to be the first casualty of the 2020/21 season.
Happy 'Chess' Retirement
On behalf of all members of both leagues we wish Mike Jay a happy 'chess' retirement on 31st May and to say we have really appreciated his positive, reliable, loyal and dedicated support in his roles as Dorset Chess Webmaster & League Controller over the last six years. Some of his headlines have been very thought provoking but on this special occasion I am sure all members of our leagues would like to make a plea that he makes himself the centre of attraction this time around in recognition of everything he has done for Bournemouth and Dorset chess.
I am sure we would also like to show our true appreciation for Mike's hard work in person at our next B&DCL and DCCA AGMs whenever they might be. We hope Mike will be there as he needs to deliver his final reports! As we know it is sometimes difficult to replace the irreplaceable and this is no exception but we also look forward to working with Peter Anderson (Webmaster) and Martin Clancy (Fixtures Secretary) in the future.
Missing Information and where do we go next?
Due to a few trophies being held in storage at club venues or in people's homes, some information on the two leagues' histories may take a little longer to obtain. However, we have received many positive responses to these articles & puzzles, and we are pleased to say that we have managed to save a few interesting articles for future publication. These include the Dorset Championships, Daytime Chess in Swanage and hopefully the B&DCL Team Handicap Knockout Cup, the trophy for this tournament with the all the winning team names on it is still being well looked after in safe storage … somewhere! Peter has also saved some devilish puzzles for future weeks. We hope these will ensure the Dorset Chess website will continue to be vibrant and active over the summer.
If you have any factual league information or interesting stories to tell then please do send them to Peter or me – we would love to hear from you.
(Pictured above play in the Dorset Junior Championships, Bournemouth, Feb '20. The county junior chess scene is lively and very promising, so we need to prioritise the progression of these youngsters into becoming active adult club members)
Bulletin No.19 – History of our Local Chess Clubs – 20 clubs 25 years ago, now only 10 – An ageing local adult chess population but a vibrant junior chess scene – Next 10 years critical – An action plan is now needed to encourage young adult chess players for the continued sustainability of our leagues.
Did you know?
In 1995, there were 20 chess clubs playing in our two local leagues, now there are only 10. Three clubs (Merck, Plessey Wessex and Parkstone) have merged into the new Poole Chess Club (formed in 1998), Kinson has merged with Bournemouth whilst seven other clubs (Oakdale, Barclays, DSS, Frizzells, Abbey Life, Lytchett Matravers and St Peters School) disbanded in the 2000s and Lymington was last to leave the scene in 2010. Purbeck is the only genuine new chess club (formed in 2003) whilst, during this 25 year period, Bridport has come … and gone!
There has been some recent stability in the number of clubs since 2010 but we will soon be facing a new tidal wave which is the impact of the increasing age profile of our clubs and very few young adults. If no action plan is introduced to address this and perhaps any adverse impact the Lockdown has had on us, then the expectation is that in another 10 years time, there could be a further substantial reduction in our league membership.
The two tables below are split between current clubs that still play in the B&DCL and Dorset Leagues and other significant disbanded clubs (which have won the B&DCL or Dorset League Championship at least once).

Looking at the current active chess clubs, only 4 clubs were formed prior to 1974, although it could be argued that Poole existed in a previous name (i.e. Parkstone) dating back to 1928. It is also not clear if Dorchester disbanded in the 1970s then reformed or there was a continuous club. What is certain is that Bournemouth is currently the oldest chess club still in existence as it was formed in 1880. Although we are unsure about all the venues that have been used by our current clubs, it is probably safe to say that Wimborne tops the charts with 17 of them – that's one venue for every two and half years since it was formed in 1978!
Around 25 years ago, in the B&DCL, there were 4 divisions of more or less 10 teams, so around 40 teams. In the Dorset League, there were also 2 divisions with approximately 20 teams – so around 60 teams in total across both leagues. Also, the league tables in 1995 confirm that there were 20 chess clubs in existence (source: Newsknight magazine). In those days teams only played each other once. Because there were 5 players per team, and allowing for a few reserves, we estimate there were in the region of 330 players participating in these leagues at this time. With the advancement of technology and the internet, we can calculate the number of club members now playing in our leagues more accurately. On LMS, for the 2019/20 season, a total number of 217 players have currently played in our leagues (see first table above).
As mentioned in the introduction, most of the contraction in our leagues occurred in the 2000s. To maintain the same number of teams (also to make car journeys easier) we took action 11 years ago (at the 2009 AGM) by reducing the number of players within each team from 5 to 4. Whilst we now have 5 divisions in the B&DCL (plus 2 Bacchus divisions), and 3 in the Dorset League, there are only 6 teams in each division (playing each other twice), so 48 teams in total (plus 8 Bacchus teams).
Therefore, over the last 25 years, the number of local chess players in our leagues may have decreased by approximately one third reflecting those clubs that have folded or merged whilst the membership at others have fallen by up to half with Southbourne, Weymouth and Dorchester being good examples. However, on a welcome note, there are some clubs where membership has either been maintained or even grown (e.g. Ringwood, Highcliffe, New Milton and Poole). Whilst the overall decline in players is a worrying trend, the positive news is that there appears to have been very little contraction in the last 10 years and there is still a vibrant junior chess presence as reflected in our libraries, at our recent Dorset Junior Chess Championships and more recently, through Bacchus and online chess. The challenge for us is to maintain this high level of interest amongst our keen juniors so they can progress into their 20s by playing in our adult leagues.
However, there is a further concern just over the horizon as noted in the introduction and that is the age demographics of our adult club players. Approximately one third of the county's current chess players are now aged over 70, almost two thirds are over 60 and nearly all are over 40, leaving very few local players (perhaps only 5-10%) aged between 20 and 40, so more urgently than ever, fresh young blood is required to keep our leagues sustainable in the near future. With lots of other competing sports, online blitz chess and many other online technological distractions for the younger community, this remains our biggest and most exciting challenge yet!
Website Bulletin No.18 – History of B&DCL / Dorset League Division One Winners – It's neck and neck! Southbourne 35 times winners as a single club but Poole in all of its incarnations has won it 36 times! (Many thanks to Ian Clark and Pete Donaldson for supplying the information for analysis)
Did you know?
The tables below suggest it looks as though Southbourne has been the most successful club. This might be true since 1988 as it has won the two Division One Championships 35 times, but looking behind the headline facts it is Poole and its previous incarnations (Parkstone – 20, Knights – 10, Poole – 2, Plessey Wessex – 2, Merck – 1 and BDH – 1) that have won these Championships the most at 36 times!
In the B&DCL, since its formation in 1950, Bournemouth dominated the 50s, Parkstone and Knights the 60s & most of the 70s, Kinson the late 70s & early 80s, Oakdmeadians the mid to late 80s, Southbourne the 90s and 00s and Wimborne the 10s! It is also pleasing to see that some of the smaller clubs have won the Championship at least once.
Peter Anderson recalls that when Kinson first won the B&DCL Division One title in 1977 the team comprised mainly of juniors (albeit in their last year as juniors). The regular team, in board order, was Mark Charter (Junior), Douglas Lock, David Lock (Junior), Peter Anderson (Junior), Vic Wallace (not quite a junior, but he was only in his first season as an adult).
In 2013, there was a three-way tie between Southbourne B, Wimborne A and Wimborne B as all the teams had finished on 12 match points (the lowest ever winning total based on 10 matches) and they also had the same 21.5 game points. This is shown in the table below – a blanket finish and you cannot get much closer than this! Indeed, Southbourne A and Ringwood A also had a chance with two matches remaining. Unfortunately, for Wimborne B, the tie break rules at the time did not cater for game difference (and only total game points was considered as a tie breaker) and, in one of its matches there was an agreed double default on one board. The B&DCL rules were subsequently changed following this highly unusual and exciting finish!
But the good news for Wimborne is that 2013 counts as two wins for the club in the first table above!
Pictured below is Ian Clark collecting the Division One Championship board on behalf of Wimborne A in 2019.
In the Dorset League (since 1964), Parkstone dominated most of the 60s and 70s, Weymouth the 80s, Southbourne the 90s and 00s and no team in the 10s although Dorchester did win the Championship 4 times in 7 years between 2008 and 2015. The last two years have seen new club names on the Championship board.
Pictured below is Martin Clancy collecting the Division One Championship board on behalf of Ringwood in 2019, the first time that Ringwood have won the Championship.
Both Wimborne A (B&DCL) and Ringwood (Dorset League) may get to hold onto their boards for longer than a year due to the suspension of the current over the board league chess competitions. This may be a good trivia question in the future!
and previous Bulletins…….
Bulletin No. 17- Ringwood Chess Club – 'A jewel in the forest with a dual personality'
by Martin Clancy
Did you know?
My understanding is the club was formed in the late 1950's (subsequently confirmed as on 6 October, 1959 by Martin Simons). By the mid-1990's the club has a small but dedicated group of members who played in both the Bournemouth & District Chess League and the Southampton Chess League. The main players at that time were Peter Fowler, Brian Langley, Nick Zachariades and Doug King. Peter and Brian have now sadly died, whilst Nick and Doug have other demands on their time. All are remembered very fondly for their contributions to the early days of the club.
Around 1997, Pete Donaldson, Rob Davenport and I joined at much the same time, and all have remained active in the club till the present day, filling most of the main committee roles and quite often at the same times! Mike Jay has a special place as, in addition to sorting out the original Ringwood website and managing it for many years, he has proved incredibly useful as a sanity checker – if Mike expresses reservations always best to ditch it! Other members who have a long association with the club are Tim Weir and Alan Wykes. Our "Britpop" generation who arrived around 15 years ago are represented by Niall Woodger, Kenny Harman, Mike Jay, Malcolm Day and Darrell Sturmey who have captained many of the teams in recent years. The other very valuable recent addition has been Peter Anderson who not only plays but manages the Ringwood website and contributed a lot of new content on the Dorset site – having recently added puzzles, games and a superb children section.
The most recent "refresh" of the club stems from last summer when Andy Baskett and his "chess mad" family turned up 😊. Their arrival led to a drive to attract new members and how to encourage new young members. The drive was successful and many of the new young arrivals have become valuable members of the club – so welcome, Jack, Jessica, Vaughan, Merlin and Ben with an average age of around 15! Along with David Bacon and Andy they now play for the club in the Bacchus leagues. The next thing we tried was a Saturday morning chess club. Before it was sadly stopped by the lockdown, it was very well attended (10-12) each week by children from 7 years upwards. We will hopefully get the chance to restart it again post lockdown. In the meantime, undeterred by the virus and the lockdown, Andy Baskett set up a Ringwood library chess club on chesskid.com. This was swiftly joined by a group from Castlepoint library and at present, Andy runs tournament everyday attended by 7-9 children.
When I joined the club, it met in the Crown Hotel at Friday's Cross in Ringwood. Sadly in 2002, the Crown turned into a Pizzeria with a Masonic hall attached. Yet people say there is no such thing as progress! Pete Donaldson had by this time become our local "fixer" so was tasked with finding a venue, up to our maximum spend of nothing! Pete was not unduly fazed, and we moved to The Inn on the Furlong without dropping a club night. To bring matters up to-date on venues, our current is the Original White Hart on the High Street (pictured below). We have been happily meeting there since 2012 – but as they say- watch this space!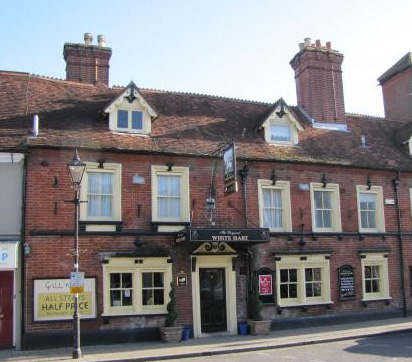 Since 1997, for over two decades there was a gradual increase in membership for the club, more teams being added and facing stronger and stronger opposition. The club has always played in both the Southampton and Bournemouth & District Chess Leagues and it is one of the main reasons why we have not only survived but flourished. Essentially, people who played in either league could continue to play for their club whilst getting more league chess by playing for Ringwood in the other league. The first two players to explore this were Graham Willetts who joined to play in the Southampton League and Richard Perrin who wanted to play in the Bournemouth & District. Both have played for Ringwood now for many years.
Martin Simons was the next person to join to play in the Southampton League. He was swiftly followed by Russell Pegg, Bruce Jenks and James Forster. More recently a group of "Highcliffe" players have also joined to play in the Southampton League.
I've always enjoyed testing Pete's "fixing" prowess! Usually by announcing I would be working "Up North" suddenly after the Bournemouth and District 'A' team had just gained promotion. Pete would respond every time by recruiting a much stronger player and I would return to note another promotion and that my playing board 1 was becoming a more and more distant memory! The list of players included Chris Bellers (Max grade 187), Ieuan Ward (Max 215), Mike Yeo (204) and Oliver Gill (202) and Steve Deall (202). All were great teammates and a pleasure to play alongside.
In my opinion, 2005 marked a major achievement for the club in achieving a unique double of playing in the first divisions of both the Southampton and Bournemouth & District Chess Leagues in the same season. However, that has paled in comparison to last season's achievements (2018/19), when we won not one, but two first division trophies among other successes. Below is a list of what was achieved in this exceptional year.

In fact, by the end of that year we had won so much we felt the need to have a presentation evening…..hence the photo at the head of this page
Bulletin No. 16 – Southbourne; John Harris loyal member & enthusiast: 6 decades
Southbourne Chess Club – 35 times Division One Champions – John Harris only remaining founding member
Did you know?
(Any story about Southbourne has to start by mentioning John Harris, pictured below on the left [Presenter, Organiser Steve Peirson]. He who was one of the founders in 1974 and is still playing for the club he loves. Very well done to John!)

Southbourne Chess Club first met on the 18th September 1974 after George Kilmister put a note in the Bournemouth Echo Chess Column. The founding members were George Boardman, John Harris, Ben Goodman, Arthur Thorrington, Ernie Weetman and Vivian McDermott who all responded and played in the first season. There is still one of these members, John Harris, who continues to play regularly for the club today. He is the club's current Webmaster and is as active today as he was 46 years ago, if not more so! John also runs Southbourne's successful Tuesday afternoon chess club at the Ludo Lounge (2.30pm to 5pm) and, in 2017, he won the first ever Dorset Blitz Tournament (graded section). Pictured above is John picking up his winning cheque from organiser Steve Peirson at this event.
Russ Pegg and Jon Catchpole joined later in August 1975 and Russ is the club's longest continuous member (as John went off to work in Jersey for two years) and he has been the club's President for 30 years now taking over from Ernie Weetman. George Boardman was the club's first President for 10 years. Further, Ernie Weetman was the club's first Chairman but Larry Cox was its longest Chairman serving for almost 30 years from 1982 to around 2010, after which the current Chairman, Martin Simons, succeeded him.
Pictured below is a gathering of some of the very early members in or around 1980. Many Southbourne members will fondly remember Charles Cooper (2nd from the right), one of its strongest players and chief competitions organiser, also Alan Primett (3rd from the right) and David Prior (4th from the left), who were both extremely hard working and diligent club secretaries for many years. Further, in the picture is Russ Pegg (3rd from the left) and Paul Bland (4th from the right) who now plays for Bournemouth. John Harris, founding member, is also far right. Not in the picture but current players Frank Hamilton-Taylor and Terry Walsh were also active members in the early 80s.
And pictured below are members in the early 1980s promoting the club at the local radio station, 2CR (back row left to right: Larry Cox, Ernie Weetman, Vivienne McDermott, George Boardman, John Harris and with a place all to himself on the floor is Russ Pegg!).
Southbourne has mainly played at three venues. The first venue was at the Our Lady, Queen of Peace Church in Douglas Road, Southbourne where the club played on Thursday evenings for around 10 years, then for one year at the Denmead Church Hall in Denmead Road. However, since the mid 1980s the club has been meeting at the cosy Tuckton Social Club on Friday evenings and only at its new modern site since 2013 as the old Tuckton Social Club was knocked down some 30 metres away to make room for residential accommodation and a Tesco Express store. A photo of the club's distinctive old premises is shown below.
Further photos of the new premises being built can be found here … https://southbournechessclub.weebly.com/tuckton-social-club-building.html
In terms of competitions, in the 70s Southbourne competed well in the B&DCL finally achieving Division One status in 1978 after the arrival of its new board one player, Garry Windebank. During the early 80s, Martin Simons joined as a junior player but played irregularly due to university and working away. However by the late 80s, there was a settled team and the club won its first Division One Championship in 1988. Pictured below, left to right, is the winning team of John Harris, Stuart Robertson, Russ Pegg, John Catchpole and Martin Simons.
In the early 90s, Southbourne's membership level soared to almost 50 members and this included many strong 180 plus graded players such as Alan Dommett, Bruce Jenks, Graham White, Gerald Bennett, Michael Freeman, Bob Noyce, Richard Webb and then later by Walter Braun, Steve Shutler and Paul Kemp. As a result, Southbourne dominated Division One in both the B&DCL and Dorset League during the 90s and 00s. It has now won the Division One Championship 35 times and won the double on 10 occasions including five consecutive years between 2002 and 2006.
During the 90s the club also used to participate in the National Club Chess Competition and reached the final of the Under 175 section in the mid 90s. Pictured below is the team (back row left to right – Bruce Jenks, Russ Pegg, David Rapkins, front row left to right – Jon Catchpole, Alan Dommett, Martin Simons – team manager).
Along with many other local chess clubs, membership has now halved since the club's heyday to approximately 24 members but by continuing to meet on a Friday evening, a non-school night, this has helped to attract a few junior players.
The club still competes locally at the highest level and it also welcomes the successes of its team in the lower divisions. Pictured below is Michael Litchfield, on behalf of Southbourne C, being presented with the B&DCL Division Three Championship board in 2019.
I
In the same year, Paul Sandy (club member for over 25 years) won the Boardman trophy for his outstanding performance for the D team in Division 4. And pictured below is Nigel Purry, on behalf of Southbourne E, being presented with the B&DCL Division 5 Championship board, also in 2019.
However, there is one thing that may differentiate the club from other local clubs and that is its friendly welcoming environment, especially with its cups of tea with biscuits which are are offered free to all visitors and opposing teams half way through the evening, a tradition which began in the early days by the club's first Secretary, the lovely Vivienne McDermott and which is now done by its very industrious and popular club member, Brian Curran.
Website Bulletin No. 15 – B&DCL Past Presidents, Chairmen, Secretaries and League Controllers over the last 48 years – Steve Culleton 'Top of the Pops' or was it Guy Machon! (Many thanks to Pete Donaldson for digging out past season's records to help us compile these stats).
Pictured left, current B&DCL Chairman Martin Simons and the editor of this article. Martin took over from David Burt as Chairman in 2015. He has made a huge contribution to the management and running of Dorset Chess over more than 3 decades, especially congresses such as the Grand and Rapidplay. For example, he started the Rapidplay 25 years ago. With Ian Clark he was instrumental in bringing the British Championships to Bournemouth in 2016 for the first time since 1936. Martin is also a very strong player and was Dorset County Champion initially in 1994 and it is believed he has won this competition at least 7 times since. Martin is regarded as a technically gifted player, who has outstanding ability in the endgame.
The B&DCL was formed in 1950 and it has records going back to 1972/73.
Below are three tables highlighting the Presidents, Chairman and Secretaries who have worked so hard and have loyally served the B&DCL during this period.
There are too many individuals to mention but what is significant is that, with a few exceptions, Presidents seem to have a longer life in office than Chairmen and Secretaries. We would love to know their secret!
There are, however, five people who deserve special mention as they have each substantially given more than 10 years service.
Guy Machon was an inspiration behind many of the plans of the B&DCL in its early years, having served as its League Secretary we think from the early 1950s to 1980 which suggests more than 25 years service. Indeed, David Burt recollects he may have even been the B&DCL's Secretary in 1950 when it was founded. Guy was also the hard working Bournemouth Echo Chess Columnist throughout this period. So for this, Guy is unofficially 'Top of the Pops'!

Steve Culleton (pictured left) calmly and quietly served the B&DCL as its unassuming League Secretary for 25 years from 1993 to 2018, nothing seemed to trouble or phase him. Due to his known length of service he is therefore officially 'Top of the Pops'!

Reg Valentine (left) was a tremendous asset to the B&DCL serving as President for at least 23 years throughout the 70s, 80s and 90s, and responsible for setting up Oakdale School Chess Club, including the initial development and mentoring of two Dorset Presidents, Ian Clark and Steve Crisp.
David Burt (left) served the B&DCL as its dedicated Chairman across two spells and accumulated 20 years service. David also ran the Bournemouth Swiss for a similar length of time. He is the longest serving current player of the B&DCL and although he first played in the league in 1958, still plays to a good club standard today!
Alan Dommett (left) has been the B&DCL President for 17 years and continues to be a sucker for punishment as he is still in office! He was also the Bournemouth Echo Chess Columnist for many years from the mid 90s to 2011 and editor of a local B&DCL 'Newsknight' chess magazine for 13 years from 1993 to 2006 so that's a tripple whammy!
Although we do not have complete records, we should also mention our past League Controllers, Barry Walker, Phil Holt and Chris Ambrose for their substantial work. Chris (pictured left) has, in particular, given many years dedicated service in the role.
Finally, Mike Jay has been League Controller, Dorset Chess Webmaster, Dorset Rapidplay Organiser and the County's 'Press Photographer' for the last six years and is retiring on 31st May. We are very much indebted to his incredible, loyal and supportive service to both the B&DCL and DCCA and we will find it extremely hard to replace the irreplaceable! Pictured below is Mike who is, for once, on the other side of the camera, albeit, allegedly, in a photo booth!
and previous Bulletins…….
Website Bulletin No.14 – Dorset County Chess Association Presidents – 1946 to 2020 – Frank Kingdon Longest Serving (Many thanks to Ian Clark for most of the notes below)
Did you know?
There have been nine Presidents of the Dorset County Chess Association (DCCA) since the Second World War. The records are not available prior to this but it is clear from a set of minutes seen from a meeting in 1946 that the DCCA had been in existence for a long time. It is possible that a Dr Lander was President prior to 1946.
The first post war President was Capt P.H. Di Marco (Parkstone) from 1946 to 1948 who was also recorded as being a founding member of the Parkstone Chess Club in 1928. Further, he was the President of the Southern Counties Chess Union in 1948/49.
From 1948 to 1953 the DCCA President was F.H. Senneck (Sherborne). We wonder if there was a chess club from Sherborne at this time.
Mr A.F. Thomas (Weymouth) was President for the period from 1953 to 1963.
Derek Marples (Parkstone and brother of Greville Marples) was President for the period from 1963 to 1970 and had a very unfortunate end when he was killed by lightning whilst mountaineering in Switzerland.
Joe Anderson (Weymouth) was President for the period from 1970 to 1980 and he was followed by the the DCCA's longest serving President and a great servant to Dorset Chess, Frank Kingdon (Weymouth), from 1980 to 1995. Frank had many significant roles in Dorset Chess starting out as the DCCA League Secretary in 1962. He then organised the annual Weymouth (Dorset) Congress from 1964 when it first started, and then the County Correspondence team from 1969. He ran each for approximately 40 years and finally retired from all chess administration in 2009.
In the picture above, Frank Kingdon is seen being presented with a commemorative plaque for 47 years outstanding service to Dorset Chess from Malcolm Steevens (WECU President elect and current DCCA League Secretary) at a WECU meeting in 2010.
Steve Crisp (Oakdale) took over in 1995 and must have been the youngest President (probably by a long way!) and served until 1998. Steve has had a few other roles including being the County's Grading Officer for many years and he also organised the Dorset Individual Lightning Tournament at Southbourne from 1995 to 1998.
Chris Johns (Weymouth) was then President for the period from 1998 to 2008. He was also League Secretary for the DCCA during a 10 year period prior to becoming President and more recently he has gone back to teaching chess to juniors at Conifers Primary School in Weymouth which is proving very enjoyable, rewarding and successful. Chris joined the Weymouth Chess Club in 1981 and has so far won its Chess Championship a staggering 18 times!
In 2008 the current President Ian Clark (Wimborne) took over. As we know, Ian continues to give great service to Dorset Chess. As well as being the current President he was the County Treasurer for the 12 years prior and he still organises the Dorset Open and Closed Congresses which he has done so successfully for many years.
Pictured below is the ex-President, Chris Johns, presenting the Dorset League Division One Championship board to the current President, Ian Clark, in 2018.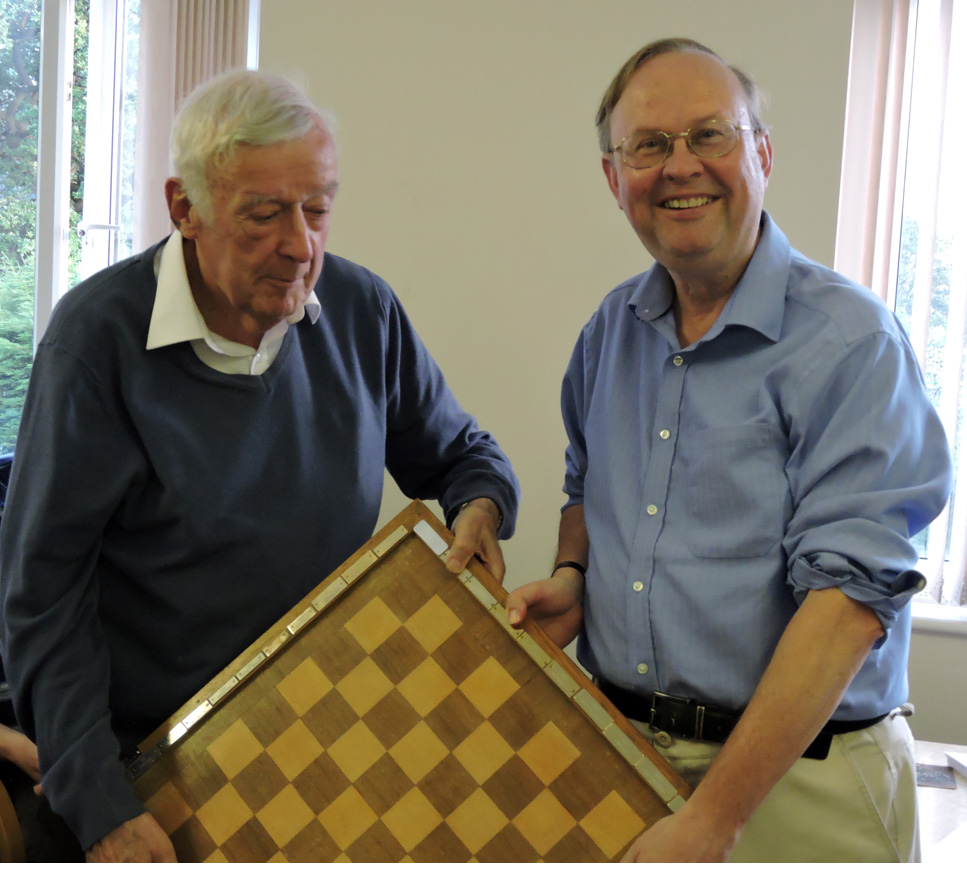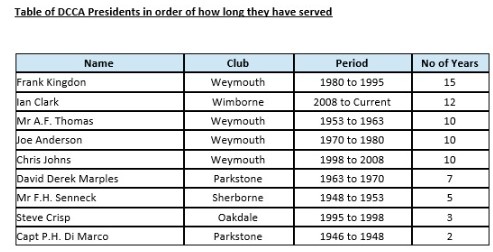 Bulletin No. 13 – Weymouth – 13 times Dorset League Division One Champions – Great Dorset support including four past Presidents – Plus spotlight on two of its most influential players!
Did you know?
Although the Weymouth Chess Club came into existence in its own right in 1973 its ancestral roots stretch back much further. The Weymouth Chess Club Championship board dates back to 1936. For over a decade in those early years its star player was undoubtedly Mr A.F. Thomas who dominated the club championship winning it most years.
In 1962 Weymouth Chess Club merged with Dorchester Chess Club and it became known as the Weymouth and Dorchester Chess Club based in Weymouth. This two-town team had great success in the Dorset League Division One Championship winning it twice, firstly in 1967, then in 1972. In 1973, as more members probably lived in Weymouth, the Weymouth and Dorchester Chess Club changed its name back to the Weymouth Chess Club.
One of its founder members in 1973 and still a strong 'Weymouth' Chess Club member is Ronnie Burton. It is believed, with over 50 years membership (including membership of the Weymouth and Dorchester Chess Club), Ronnie is now one of the longest, if not the longest, current serving member of any one single continuous chess club in Dorset so many congratulations to Ronnie. Ronnie was a very strong junior chess player and the pictures below show Ronnie proudly displaying various trophies including the Dorset Junior Knockout Championship Trophy which he won in 1970 and 1971.


And here below is a 2018 photo of Ronnie Burton. The occasion is the Dorset Blitz at Furzebrook, Sept '18 – Ronnie won Group B and he is on the left, receiving his cheque from organiser Steve Peirson
And you might just be able to spot him in the picture at Dorchester's 1st Chess Jamboree in 2007 on the following 'Dorset Local Chat' link … https://www.dorsetchess.co.uk/dorset-local-chat-a-new-website-feature/
John Kelly has also been a long-standing member of the club and has contributed a lot to Dorset chess by running the County team for many years until recently. Further, its other past and present members Mr A.F. Thomas, Joe Anderson, Frank Kingdon and Chris Johns have served as County Presidents for a combined period of 45 years covering many of the years from 1951 through to the 2008.
In the mid-1980s Weymouth boasted a very vibrant chess club with approximately 30 members and throughout its history it has regularly played at a few of the town's famous hotels including the Fairhaven Hotel (on the seafront) and Rembrandt Hotel (pictured below), both popular venues where many Dorset Open chess events have also been held in the past.

Since the 1980s the club has seen a steady decline in membership but despite this it has always had strength in depth with many players around the 180 to 190 grading range including Allan Pleasants, Joe Anderson, Frank Kingdom, Jonathon Tyrer, Kevin Goater, Ronnie Burton, Andrej Furjel, and Chris Johns. As a consequence of this, the Weymouth Chess Club has won the Dorset League Division One Championship 13 times, first winning it in 1974 and most recently in 2017. It was the team to beat in the 1980s winning the title 5 times between 1982 and 1989.
Pictured is captain Allan Pleasants receiving the 2017 1st Division Championship chess board from President, Ian Clark at the DCCA AGM.
2017 was a special year for Allan as he also became the Welsh Chess Champion (pictured below).

Further, he will fondly remember 2012 as he beat his first ever Grandmaster, Keith Arkell, at the 1st Bournemouth Grand Chess Congress, and won a chess board for beating well known UK Grandmaster, Raymond Keene OBE, in a simultaneous display (pictured below).

Details of the Raymond Keene simultaneous event can be found here … https://www.dorsetecho.co.uk/news/9893616.plucky-weymouth-challenger-beats-chess-grandmaster-at-a-dorchester-tournament/
Weymouth Chess Club is proud of Allan's achievements particularly as he has also gone on to represent Wales at two European Team championships and at the Batumi Chess Olympiad.
In recent years the club championship has, in the main, been won by strong long-standing Weymouth players, Chris Johns and Frank Pittman. In 2019, the Weymouth Chess Club moved to the Colliton Club in Dorchester where it shares the venue with the Dorchester Chess Club, but both teams are keen to point out they have not merged!
Bulletin No. 12 – Reg Valentine started chess at Oakmead School & it grew
Did you know?
Oakmead School / Oakmeadians / Oakdale Conservative Club Chess Clubs – 4 times B&DCL Div 1 Champions in 5 years in the 1980s! (Insightful notes provided by Ian Clark who also provided the very old school photo – but is he in it?)
The Oakmead School Chess team was started by the Head of English, Reg Valentine, in the late 1960s. The team was initially made up of Reg and school boys such as Paul Colmer, Dave Cannings and Fred Wild. A chess club was held in the school at lunchtimes and matches were played on Friday evenings. Reg was instrumental in organising and playing in our teams and he was a strong player.
In 1973/74 there was an influx of new faces including Steve Crisp, Terry Simms and myself. House matches were played at the school and great friendships were made that still exist today. The photo above shows Steve Crisp and Terry Simms holding the house board trophy and Reg in the background. There is another local player in the photo who currently plays – can anyone recognise him?
In about 1975 we were joined by a year 2 (about 13 years old) player in Roger Kinnersley and he shot up through the rankings and was soon playing on board 1 in the A team having a rating of about 170 at 16 years old.
Towards the end of 1970s when most of the stronger players had left we changed the name of the adult teams to Oakmeadians whilst the school team remained as Oakmead School. We always had a great team spirit and the adults would often end up after playing chess on Friday evenings at the Osprey pub where we could discuss our games over a pint.
The Oakmeadians teams continued to play at Oakmead School and the second half of the 1980s was a great and rewarding time for us as we were probably then at our strongest as we won the B&DCL Division One title 4 years out of 5 from 1985. We had been joined at that time by new players such as Mike Freeman and Steve Culleton. Eventually we had to leave the school as it wanted to charge us for playing!
We were lucky through one of our newer members, Dave Bindon, to be able to play at the Oakdale Conservative Club where we had excellent facilities playing upstairs in quiet surroundings. We won the Dorset league Division One once in 1994 and the B&DCL Division One title again in 1996. We had been joined at that time by new players such as Steve Pollyn and Eddie Barker who one way or another ended up at Wimborne Chess Club with myself.
The last season at Oakdale was 2002/03 when a number of players had started to either stop playing or leave the area. Paul Colmer, who had been playing from the start, had moved to Bristol and his friend and compatriot Dave Cannings also decided to stop playing. Finally Reg Valentine decided it was time for him to retire and we all have to thank Reg for keeping the Oakmead spirit over all the years.
Many thanks to Ian (pictured below in 1994) for providing this interesting review. He was an integral part of the Oakmead School / Oakmeadians / Oakdale Conservative Club chess history from the early 1970s to the early 2000s.
Bulletin no. 11 – Down Memory Lane – Bournemouth School Chess Club – almost B&DCL Div 1 Champions
Did you know?
From the mid 1970s to the early 1980s, Bournemouth School had a sufficiently strong team that it competed regularly for the B&DCL Division One Championship. Indeed, in the 1970s many strong players played for the team including Carl Taylor, Mark Charter and Paul R Davies. Mark and Paul were either graded or played to around the 190 to 200 playing strength. In addition, Paul was the Bournemouth (Senior) Champion in 1972 which was some achievement for a 14 or 15 year old.
However, the school team probably had it best opportunity to win the title on two occasions, firstly during the 1978/79 season when it fielded a strong team of Alan Bright, Richard Sutton, Darren Wimbleton, Mark Potter and Alan Graham and then again during the 1981/82 season when the team squad consisted of Martin Simons, Bruce Jenks, Ben Hirsch, Andy Heard, Tony Pritchard and John Roote with Mike Pownall as an able reserve. It is believed this team came 3rd in Division One out of the 10 teams which competed that season.
Following the departure of its Arts and Crafts teacher, Mr B Neame in 1982/83, who had been teaching at the school since the late 1940s, and who had been enthusiastically running the school chess team, the school team never quite achieved this level of standard again although in recent years Bournemouth School has competed well in and won the B&DCL Senior Schools Finals.
Many re-unions followed and in 2012 at the Bournemouth Grand Chess Congress there was a 30 year re-union chess match between the Class of '79 and '82 – It's not entirely clear which team won, the result did not really matter, but it was nevertheless a great opportunity to catch up and reminisce.
Pictured above are those players who attended the re-union chess match in 2012 at the Carrington House Hotel (left to right; Bruce Jenks, Mike Pownall, Martin Simons, Mark Potter, Richard Sutton, Darren Wimbleton, Andy Heard, Alan Bright, Tony Pritchard & Alan Graham – unfortunately Ben Hirsch and John Roote could not attend).
Bulletin No.10 – Poole Chess Club – the club of mergers and acquisitions! (with lots of thanks to those who contributed to the Poole Chess Club website and Dave Burt)
Did you know?
The origins of Poole Chess Club can be traced back to 29th November 1928 when Mr C.J. Chapman, Mr W.H. Curtis, Captain P.H. di Marco, Mr H.J. Bastable and Mr Curtis Smith met to discuss the forming of a Parkstone chess club, although Dave Burt recollects Poole Chess Club in its first incarnation may have also been in existence either at this time or in the 1930s. Throughout the 92 year old history there have been many mergers and acquisitions as depicted by the club history diagram below including the absorption of the old Poole Chess Club and infamous Knights Chess Club into Parkstone Chess Club. The 'Knights' played at the YMCA in Westover Rd for a number of years and were formed by a group of professional people before numbers dwindled in the early 1980s when it combined forces with Parkstone. During the 60s, 70s and 80s, the Parkstone Chess Club played at the Tatnum Pub until the brewery took away the pub's licence.
In the 1980s there was a breakaway club (from Parkstone) in the form of the BDH Chess Club which then became Merck Chess Club in 1991. It is not clear when the Siemens Plessey Chess Club started to amalgamate with BDH or Merck but its last appearance in the B&DCL was in the 1994-95 season. Merck then merged back with Parkstone Chess Club to create the re-formed and current Poole Chess Club in 1998 where it took over Parkstone's home venue at the Poole Ex-Servicemen's (RBL) Club, in North Road, Poole, where it still meets today, mainly but not exclusively on Thursday evenings … Phew!
Derek Chapman, on its website, reported that Poole Chess club then struggled in the early 2000s and by 2005, due to a 'downturn in fortunes', it was thinking of closing down and amalgamating with another local club, Kinson (now Bournemouth). Fortunately, with hard work from some of its members, the club survived to become the success story it is today.
Poole Chess Club, in its current and previous incarnations, has won the B&DCL and DCCA Division One title a massive 36 times. Parkstone were the first winners of the B&DCL in 1951 and went on to win it 10 times. Knights first won it in 1958 and not be to be outdone, has also won it 10 times. Further, Parkstone has won the Dorset League 10 times, being winners in 1965 in the league's second year. It took Poole 17 years to win its first ever B&DCL Division One title and it had its most successful season in 2018 when it won both this title and the B&DCL Team Handicap Knockout Cup (for the 3rd time in 4 years) as well as many other B&DCL and Dorset League trophies!
The club has hosted many events such as simultaneous matches against Russian master Eugene Znosko-Borovsky https://en.wikipedia.org/wiki/Eugene_Znosko-Borovsky and the world's first woman's chess champion, the British-Czechoslovak-Russian chess player, Vera Menchik https://en.wikipedia.org/wiki/Vera_Menchik
The club also meets on Wednesday afternoons at 2.30pm at Flirt Cafe (underneath Bournemouth Library) for fun, casual chess.
Chairmen of Poole Chess Club have included David Burt, Chris Ambrose and more recently Eric Sachs, who has been instrumental in Poole's recent success.
Main picture above are the Poole Chess Club members celebrating their 'best ever season' at its 2018 AGM.
Bulletin No.9 – Highcliffe Chess Club (with lots of thanks to John Jenkins who has provided these insightful notes, but also thanks to Keith Spooner for his 'snippets')
Did you know?
When the Christchurch Chess Club folded in 1984, Ray Elliston and Harry Ruston found a new home at the Greystones Community Centre in Highcliffe and the Highcliffe Chess club was formed. When John Jenkins joined in 1986, Highcliffe had only one team in the bottom division of the B&DCL. In those days the club worked closely with New Milton to support each other and through notable characters like Cyril Josephs and Geoff Briddon.
Keith Spooner joined with his great enthusiasm and capacity for 'grabbing' players off the street and from other clubs. John Stainton was 'bribed' to vacate his bar stool at 'Napoleons' and pick up the pawns again after some 15 years absence. John's prowess enabled the club to finally break into the top division for a couple of seasons. Meanwhile Tony Price and Keith Day kept the club together as secretaries. Richard Ursell joined the club and managed to help with its recruiting programme.
The club felt it had finally arrived after a few difficult years with five teams in the B&DCL and three in the Dorset league. It now has a website, expertly managed by Christian Westrap, and the gentle cajoling by Ron Salinger keeps everyone informed. The club is also fortunate to be supported by three lovely ladies, the Richardson sisters. Sarah has won the club championship, but John Jenkins explains she is currently on 'furlough' from the club (whatever that means), Rachel volunteers for everything and Sue is a Zimbabwe ladies champion.
What has been maintained at the club is a happy atmosphere and an ability to distinguish between 'Chess for Blood' and 'Chess for Fun'. Its members also enjoy their drunken knights at 'The Amberwood', and support each other.
Highcliffe has twice won the B&DCL Team Handicap Knockout Cup in 2016 & 2019.
In 2016 it was an infamous victory as Weymouth had to win 6 – 0 due to the teams' average grading difference, but it could only win 5.5 – 0.5 and it was club captain and hero Richard Ursell who achieved the required draw for Highcliffe against Frank Pittman on board 2 where there was only a 28 point grading deficit – On all other boards, the grading deficit was between 55 and 79 points! In 2019 it was a more normal, but nevertheless exciting Cup Final with Highcliffe narrowly beating Purbeck 4 – 2 (having needed to win 3.5 – 2.5) with the match going down to the last board.
Pictured below is captain Richard Ursell receiving the trophy from the B&DCL League Secretary, Pete Donaldson.
The Highcliffe A team is also well placed to win the Dorset League Division One this season as it is currently top by one point with a match in hand over its closest rivals, Poole A. This could be the club's first ever Division One league trophy in either the B&DCL or Dorset League – so no pressure!
Pictured below is the club's home venue at Highcliffe (Greystones) Community Centre where it has been since its formation in 1984.

Did you know No.8? Generations of the Ursell family
(with lots of thanks to Richard Ursell)
Three generations of the same family once played for Christchurch E in a 1975 B&DCL Division 3 league match. Phil Ashley Ursell (then grade 176), Bob A Ursell (110) and Richard Ursell (92). It is believed this is the only time this has happened in Dorset.
Phil Ashley Ursell, born in 1900, was the Bournemouth Chess Club Champion in 1946 and 1950 and was one of the founder members of the B&DCL. He won the B&DCL's first individual trophy in 1950, the year the league was formed. He was an immensely strong player, in the British top 30 and in today's grades probably around 230. He once beat the then world champion, José Raúl Capablanca in a simultaneous. Phil regularly played Leonard Barden, English chess master, writer and broadcaster, now aged 90.
Robert Ursell (Bob), Richard's father, was also very involved with Dorset chess, playing for both New Milton and Highcliffe. Bob and his son Richard started playing in the 1972/73 season for Christchurch and then went on to form the BAC team in 1977. BAC won promotion to B&DCL Division 2. In 1984 they both joined New Milton.
And to bring things up to date there is now a 4th generation of Ursells playing – Richard's sons Adam and Dan, at Highcliffe, along with their dad.
Did you know No.7? Bournemouth Chess Club
(with lots of thanks to Paul and Simon Errington)
Bournemouth Chess Club was founded in 1880 which makes it the oldest chess club in Dorset, and it was the only club in the area with 100 members. Its heyday period was between 1880 and 1920.
Emanual Lasker was a member in the last of these years when he was the World Champion (from 1894 – 1921, the longest ever reign of any World Champion). https://en.wikipedia.org/wiki/Emanuel_Lasker
Grandmaster Comins Mansfield, a famous chess problem composer, was Club Vice-President from 1961 to 1966. He won its individual competition in 1961. More on Comins Mansfield through this link:
https://en.wikipedia.org/wiki/Comins_Mansfield.
In the earlier years Right Hon Judge A W Bairstow was Chairman in 1919 and another notable person was Judge T E Hayden in 1920, There were more colourful members including Captain E C Erskine-Bolst of the Black Watch Regiment in 1918 and later Brigadier General S Muspratt CBE in 1937. The Bournemouth Chess Club's Minutes book commenced in 1987 and it was kept up to date afterwards by Alf Bullock who was the Club Secretary from 1990 to 2000.
Notable Club Champions in date order W H Curtis 1906, 1908, 1913, 1914 and 1916, Dr Neville Hart 1917, 1918. 1919 and 1921, H L Gardener 1927, W H Hooper 1936 and 1937, Phil Ashley Ursell (grandfather of Richard) 1946 and 1950, T H Bumpus 1952, C Foster 1969, H J O Donnell 1976 till 1981, Don K Bevis 1986 till 1994, Tim Lines 1996 to 1999, Dave Burt & John Lowther jointly in 2008 and Alf Bullock 2009. Ladies Champion 1969 to 1970 – L Jaslowizo from Poland.
There were 36 members recorded in 1988 dropping to 25 members in 2000. When Dave Burt ran the club, it played at St Albans church in Charminster Road. The Bournemouth Chess Club club took a break from the B&DCL in the 1960s rejoining it in 1970 because it traditionally played only on Mondays afternoons. When funds got a little short there was an amalgamation with Kinson Chess Club when it moved to the Pelhams Community Centre in Kinson. At this stage Phil Holt and Dave Burt managed the club. Paul Errington took over the running (Chairman) of the club when Dave Burt retired and after several years at Pelhams it moved into its current premises, the Winton Liberal Club during the summer of 2019 and it is now playing all of its chess on Tuesday evenings for the first time in its long history.
Bournemouth Chess Club has won the B&DCL Division One title 5 times, the first time being in 1952 and the last time in 1959!
Pictured below is Bournemouth's current home venue.
Did you know No.6? New Milton Chess Club
New Milton Chess Club was formed in 1975 and entered the B&DCL in 1983 and some of its early well known members included Bob Ursell, Richard Ursell, Keith Spooner, Geoff Briddon, Mike Bond, Terry Gurd and Bill Page. The club met at the New Milton Community Centre in Osborne Road where it remained until December 2015 when it moved to the New Milton Conservative Club.
With a modest population to work with, it was a club that originally struggled to attract the strongest players in the area as it was considered that the Bournemouth & Poole area had better job and study opportunities. However, following some hard recruiting work by Bob Ursell it reached its peak in the mid 1990s and it successfully won the B&DCL Division One title in 1997 and 1999. It was also the first ever club to win the B&DCL Team Handicap Knockout Cup in 1996. The team at the time boasted such squad names as Julian Corfield, Ray Edwards, Paul Kemp, Richard Ursell, David Balfour, Harry Iyengar, Len Laker and Bill Page.
In the early 2000s the club's membership depleted a little as social clubs were being closed and the stronger players seemd to be joining the larger clubs in the Bournemouth area. At one stage it only had one team competing in the B&DCL but more recently it has seen a bit of a revival, due to the arrival of Reenen Du Toit, John Belinger, Barry Jolly, Steve Disney and many others. It now boasts three teams in the B&DCL and its first team is well placed for promotion into Division One as it currently tops Division Two.
Pictured alongside is New Milton's current home venue.
To see a New Milton Chess Club member's perspective, please click on this link to Barry Jolly's full report:
Did you know No.5? Dorset Championships and Tournaments today
The Dorset (Closed) Championships is the longest serving tournament in the County, first held in 1929. Other current Dorset tournaments include the Dorset Open (first held in 1966 which was previously held in Weymouth before being moved to Bournemouth in more recent years), the Dorset Rapidplay Championships (first held in 1995) and the B&DCL Team Handicap Knockout Cup (commenced in the mid 1990s). The Dorset Rapidplay Championships has recently celebrated its 25th tournament and was the last tournament to be held in the UK before the UK Government introduced its lockdown measures.
It is not entirely clear when the Dorset Junior Championship was first held but some of our local players who are now nearing retirement or even have retired, remember playing in them so many years ago!
Dorchester Chess Club also host an open Team Jamboree at its club for club teams of six in September each year as the curtain raiser in Dorset. Also, as its curtain raiser in September, the B&DCL hosts a Two Towns Bournemouth v Poole Chess match at Poole Chess Club often over more than 30 boards. Previously, this used to be called the Bournemouth v Southampton Two Towns Chess match until Southampton pulled out in 1985!
The exciting Dorset Blitz Championships is the newest tournament which commenced in 2017.
We hope to publish more information on these current regular local tournaments in future bulletins.
Did you know No.4? Past Chess Tournaments in Bournemouth and Dorset
A B&DCL Team Lightning 10 Second Tournament used to be run at Pelhams Community Centre (home venue of Kinson Chess Club) in the 1970s and 1980s which used to be a major and exciting highlight at the end of each season.
In the 1990s, for a few years, a Dorset Team Blitz Tournament and a Dorset Individual Lightning Tournament were held at Tuckton Social Club (home venue of Southbourne Chess Club).
Dorset used to enter teams in the National Counties Chess Championships (32 boards) and also in the National Counties Chess Correspondence competitions (30 boards) until strong computer programs took over!
The Bournemouth Grand Chess Congress was run from 2012 to 2015 at the Carrington House Hotel attracting several strong Grandmasters including David Howell, Nick Pert, Simon Williams and Keith Arkell. In its final year it attracted over 170 entries and it was so successful that all excess monies raised were used to sponsor the British Chess Championships held in Bournemouth in 2016.
We hope to publish more information on some of these past local tournaments in future bulletins.
Did you know No 3? B&DCL Newsknight
The B&DCL produced its own local regular chess magazine from 1993 to 2006, called "Newsknight "(28 editions – often hitting 30 pages!). Its editor was Alan Dommett and sub-editor was Martin Simons. Articles ranged from reporting on local and national events, World Chess Championships, through to Opening Oddities and Bits & Pieces.
Did you know No 2? British Chess Championships
The British Chess Championships have been held in Dorset twice, both in Bournemouth.
The first time was in 1936 when there was an outbreak of typhoid in Bournemouth, Poole and Christchurch. Doctors began to see people with symptoms from 4th August onwards. In total 718 cases were reported, 51 people died locally and 20 people died elsewhere, mainly visitors who had returned home. The outbreak was caused by contaminated milk. It just shows how fevers can spread!
The winner of these British Chess Championships was William Winter.
The second time it was held at the Bournemouth Pavilion in 2016, exactly 80 years later, and it was the last ever time of the old style 11 round format. There was a record attendance of almost 1,200 competitors and it was won by Mickey Adams with a joint record score of 10 out of 11.
https://www.britishchesschampionships.co.uk/wp-content/uploads/2016/07/BOURNEMOUTH-PROGRAMME-2016.pdf
Did you know No 1? The B&DCL and Dave Burt's great service over 8 decades

The B&DCL was formed in 1950 and Dave Burt (now Poole Chess Club) joined the league, we believe, in 1958. He is now into his 8th decade of tremendous service! We think that makes him the longest current serving member of either the B&DCL or DCCA unless anyone knows anything different!
Dave has fulfilled many important roles on the B&DCL Committee including being Chairman twice and also the Bournemouth Swiss Controller, both for many years!
==========================
1 April: The aim of these regular bulletins is to add interest during the lockdown.
New bulletins are very welcome and should be emailed to Martin Simons please and copied to Mike Jay and are best as:
One or two short paragraphs only, which in total consists of no more than 150 words, so it is not too onerous.
And the information to contain either:
A snippet piece of history / information about each of our clubs or
A small piece of information about any member of our current clubs or
A snippet piece of history / information about the B&DCL or DCCA
Any unusual interesting chess story in the Dorset area