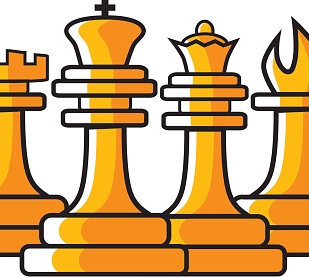 Dorset Junior Chess – 17th& 19th February: two online Chess events this week
As it has been half term, Dorset Junior Chess has run two coaching sessions this week.
The first one on Wednesday 17th February, with 15 people attending, covered:
Three fun and brain tingling chess puzzles.
A "hand and brain" match with the juniors taking on the coaches, Andy and Martin. The juniors outplayed the more experienced (??) coaches' team,

winning 1.5-0.5!

This form of chess is certainly all about team work and reading your team mates thoughts!
A demonstration by Andy on some of the key features of

Chesskid.com

, including how to connect with friends.
Finally a few chess games with the juniors being paired against each other.
Puzzle Duel on Chesskid.com is one of the fun ways to challenge friends and practice chess.
Then on Friday 19th February to round off half term week, another excellent and fun, flagship Dorset Junior Chess Friday evening online chess coaching and tournament evening. This regular Friday evening event continues to grow in popularity and is becoming the highlight of the week. Some juniors are now logging on 10 or 15 minutes before the start time in anticipation.
We continue to run online coaching in two virtual rooms to cater for all levels and abilities, the Rookies and the Improvers.
This week, in one virtual room, the keen Rookies studied Stalemate, the common mistakes made and, very importantly, how to avoid it.
In the other room, the hard working Improvers were taken through the learning points from a Short v Kasparov game.
After the coaching sessions, there was the usual popular tournament run on Chesskid.com to round off the evening. Of the 16 juniors who participated, Harry came first, Florence second and Lohit, Harry, Raphael & William in equal third. Well played to all juniors taking part.
The junior chess players taking part are becoming increasingly confident, both in their chess and with chatting. All the juniors are talking to each other about their games, good moves and blunders, with Himali giving a running commentary on her game and Harry sharing the news of the landing of Perseverance on Mars.
And if the juniors are keen to play more chess, weekday tournaments are organised by Andy each day on Chesskid.com at 12pm. Please contact Andy Baskett for more details: [email protected]
These evenings continue to be very popular. If you know of any juniors who would be interested then please contact [email protected]. We welcome all junior chess players from across the Dorset and Bournemouth & District chess league catchment areas (and some who are just over the border in Hampshire!) irrespective of your playing ability or your school or chess club affiliation.