Festive Bulletin No.43 – A Review of our Extraordinary Year
How Good Are Our Bulletins? – Please Have Your Say
No, we are not asking 'How Good is Your Chess?' but 'How Good are Our Bulletins?'
Over the last 9 months, and particularly more recently, have we managed to achieve the right balance or is there something else you would like to see covered and can you help us?
We would really value your thoughts, so at the end of this bulletin, we are asking for your comments using the Feedback Form. Please help us by completing it. All comments (subject to any moderation) will be posted after 2nd January 2021. We would also welcome your thoughts on any other chess related matter.
What a difference a year makes!
At the beginning of 2020, all our league and cup competitions were in full flow and our players were enjoying lots of face to face chess matches and the socialising this brings with their fellow chess players and friends. Then suddenly, it all came to an unexpected and abrupt end in March with the news that the Coronavirus was spreading fast and had reached the UK. Although cases had been reported in China in January, maybe earlier, and in other countries including the UK in late January / early February, we were nevertheless all still taken by surprise as we had never seen anything like this before. Surely it was not going to affect us and the UK Government would not close down the country, would it?
Our special 25th Celebratory Dorset Rapidplay Chess Championships was caught up right in the middle of all this. At one stage, probably due to the £1,000 worth of cash prizes on offer, we had a record of almost 90 entrants and many of these had to be placed onto a reserve list as the Greyfriars main hall could only accommodate 70 players. However, in the week leading up to the tournament, and with news of several UK deaths, so many players took the safe decision to withdraw. Due to various UK Government pieces of breaking news, there was a real fear that this event would need to be cancelled at the last minute. However, it did go ahead and almost 50 players took part thoroughly enjoying themselves playing chess, meeting old friends and taking advantage of the free lunch on offer. The tournament also enjoyed its first GM (Matthew Turner) entry. We think this was the last over the board UK tournament to take place in 2020 so we were very lucky, especially as there were no reported cases arising from the tournament. If we knew then what we know now.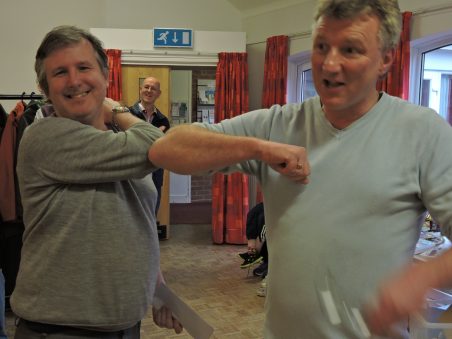 Chess has continued online as best it can with:
Lots of online chess blitz tournaments including the very popular Team Battles with amazingly over 50 players in one of these battles. Many thanks to Martin Clancy for the excellent initial idea and the organisation of all these events.
Wessex teams featuring Dorset players have competed in the 4NCL. Much thanks must go to the hard working Keith Gregory, the Wessex team captain.
Online Junior Chess coaching and tournaments. Well done to Andy Baskett and Nikki Forster for keeping our Dorset Juniors interested and entertained.
In the absence of any face-to-face chess and since the start of National Lockdown, as well as reporting on the online events  we have tried to keep all our members informed and entertained through the website and newsletters with:
Coronavirus updates and feedback requests
120 puzzles
175 quiz questions
24 Countdown short Advent Calendar games
2 quizzes for Halloween & Christmas

and last but by no means least over 60 individual Bulletins and Local Chat articles.
We owe a lot of thanks to Mike Jay who, as our outgoing Webmaster, helped to support our bulletins and chat articles throughout April and May.
In our 'Bulletin' and 'Chat' articles we have tried to provide interesting information using a variety of different reporting styles and formats in the hope there is something to suit all tastes, and the remainder of this review looks back at those articles.
But before we get onto those, we would like to wish you all a Happy New Year and a safe return to over the board competitive chess. Perhaps more importantly, we hope you will eventually get an opportunity to socialise freely with your families & friends once again. We think this lockdown period has shown just how much we have all missed the social interaction which is so good for us.
May all your 2021 chess games be good ones!
Martin & Peter
2020 Bulletins and Chat Articles
Here is a whistle-stop tour of all the individual topics that our bulletins have covered so far and these are split into 7 main categories.
1. Short factual Bulletins
In the beginning many of our bulletins were short, informative articles. In our very first bulletin in early April we produced a small feature on Dave Burt (pictured) who has given tremendous service to the B&DCL across 8 decades (since the 1950s). He has, amongst many other things, been the B&DCL Chairman for 20 years from the early 80s.
In a later bulletin, we reported on four generations of the Ursell family who have all played in the B&DCL. Great grandad Phil Ursell was one of the founding member of the B&DCL in 1950! Grandad Bob was the B&DCL Secretary for 2 years (1985 to 1987). Pictured is Richard Ursell (3rd generation and the current B&DCL Treasurer & Vice-Chairman) who was part of the winning Highcliffe team, receiving the B&DCL Team Handicap Knockout Cup in 2019 from the current B&DCL Secretary, Pete Donaldson.
2. Bulletins on the history of our clubs
The history on our 10 local clubs were very much an integral part of our early bulletins and covered interesting facts about the history on each one of them. Some snippets are given below:
Bournemouth Chess Club has the longest history, having being formed way back in the 19th century (1880). We are not aware of any founding members still playing at the club! However, Paul Errington is its current club chairman.
Dorchester Chess Club is the second oldest current chess club formed in 1932. It met at the Oak room at the Antelope Hotel in the early 1980s. This was also famously used by Judge Jeffreys, the 'Hanging Judge' in 1685 when 74 of the accused were executed https://www.dorchesterdorset.com/judgejeffreys.php. Dorchester Chess Club has, since 2007, run a very successful Jamboree for our Dorset chess clubs as a curtain raiser to each new season.
Weymouth Chess Club has a long tradition having formed in 1936. It also has a player, Ronnie Burton (pictured), who has now represented the club for more than 50 years and we think this is the longest continuous period of any current player at one club. The club has also provided 4 DCCA Presidents, Mr A F Thomas (1953 to 1963), Joe Anderson (1970 to 1980), Frank Kingdon (1980 to 1995) and Chris Johns (1998 to 2008) and it currently boasts Dorset's first ever Welsh Champion (see later note)!
Ringwood Chess Club, formed in 1959 by Peter Fowler, is probably now enjoying its best of times having won several trophies in 2019 across two counties including the Dorset League Division One title.
Southbourne Chess Club, formed in 1974, has now played at one venue, Tuckton Social Club, for the last 35 years, and it has been very successful since the late 80s winning 35 Division One Championships (that's an average of one for each year it has played at its current home venue!). Pictured is the team that won its first ever B&DCL Division Championship back in 1988 and included John Harris (far left) who was one of the club's founding members in 1974 and still actively representing the club today.
New Milton Chess Club was formed in 1975. Whilst a small club, it has successfully won the B&DCL Division One title twice in 1997 and 1999. Many of its members are enjoying the current online blitz tournaments, including Reenen du Toit, Barry Jolly, John Belinger and Peter Manning who are regulars!
Wimborne Chess Club, since its formation in 1978, has played at the most venues, 17 at the last count! It is currently one of our largest local clubs and has been very successful in recent times. Pictured is Tony Buckfield (seated left) who is the club's founding member. Other early members include current players Mike Davidson, Phil Wallace and John George.
Highcliffe Chess Club (formed in 1984) is now enjoying great success in the B&DCL Team Handicap Knockout Cup competition including an infamous victory in the 2016 final by losing it 0.5 to 5.5 but winning on the handicap system – seems fair! Pictured is the winning Highcliffe team in 2019 – they won the match this time without the need of any handicap rule!
Poole Chess Club was formed in 1998 and is the club of many mergers and acquisitions. We think its roots date back to 1928 when Parkstone Chess club was formed. It has recently had its best ever season (in 2018)!
Purbeck Chess club is the most recently formed local chess club (and is therefore our baby club) when it was set up by Brian Beard in 2003 (pictured 2nd right). It has enjoyed some success including the winning of the Dorchester Jamboree in 2017.  The victorious team is pictured.
We have also reported on other clubs that are no longer playing in our local leagues including Oakmead School / Oakmeadians, which was very strong in the mid to late 80s, and Bournemouth School which was strong in the late 70s and early 80s.
Pictured is Reg Valentine, who was the inspirational force behind the Oakmead School team in the 70s. He has also been the B&DCL's longest serving President for at least 23 years from 1972 (earliest records) to 1995. Oakmeadians eventually became Oakdale which dominated the B&DCL Division One in the mid to late 80s winning it four times.
And pictured is the Bournemouth School chess team 'Class of 79' versus 'Class of 82' re-union match held in 2012 (at the 1st Bournemouth Grand Chess Congress event). We think the youngsters won!
3. Bulletins covering our various local tournaments and events
The Dorset Rapidplay which has just had its 25th celebration and was the last chess tournament to be running in the UK before National Lockdown (Seems a long time ago now!). Pictured is Bruce Jenks, who has won the Rapidplay most times, 8 at the last count, twice as many as anyone else!
The Dorset Closed, our longest running tournament, which began in 1929!
Our two local chess organisations hosting the successful Bournemouth British Chess Championships in 2016, one of our greatest achievements. Pictured is GM Mickey Adams, England's number 1, cruising to victory.
The Dorset Open where players from outside the area are allowed to play. We believe this has been running since 1966.
The B&DCL Team Handicap Knockout Cup which has been running since the mid 90s but we are not exactly sure which year as the trophy is currently in 'self-isolation' at Greystones Community Centre!
The Bournemouth Grand Chess Congress – It has been Dorset's largest ever congress and ran successfully for 4 years from 2012 to 2015 attracting several GMs and over 170 entries in its final year. It also helped to financially support our bid for the Bournemouth based British Chess Championships in 2016.
The Dorset Blitz is our newest tournament which has now been successfully running for 3 years. Pictured is its hard working organiser & DCCA Treasurer, Steve Peirson, presenting a prize to Southbourne's longest serving player, John Harris.
The Dorchester Jamboree which has been held since 2007.
The Bournemouth versus Poole Two Towns Match (pictured), which has been running since 1985 as part of the B&DCL's curtain raiser at the start of each season and attracting up to 70 local players. The matches have been so close that 4 have been tied!
The Dorset Junior Championships, pictured. We are not sure when this tournament first started but some of its winners have since retired from work!
4. Bulletins covering the history of our two leagues
These included past Presidents, Chairmen and Secretaries plus a history on the B&DCL and Dorset League winners. Pictured are the last two DCCA Presidents, Chris Johns (1998 to 2008) and Ian Clark (2008 to present).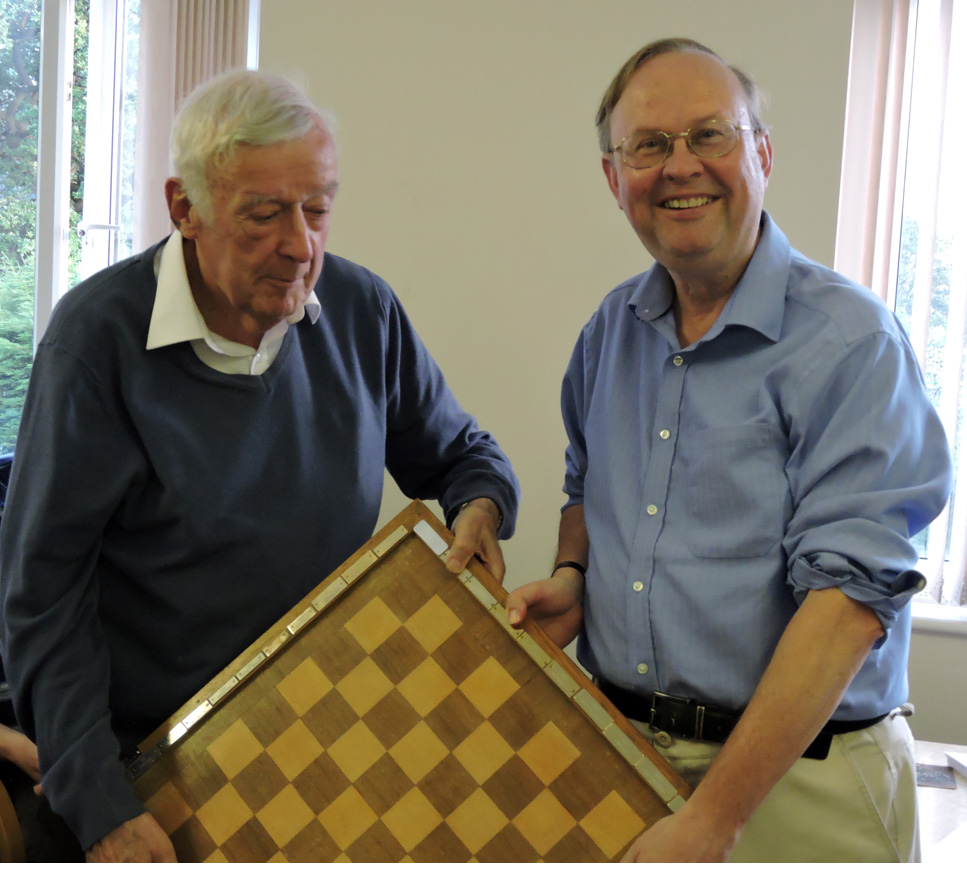 Frank Kingdon has been the DCCA's longest serving President from 1980 to 1995. Pictured below is Frank receiving a long service award from the current DCCA Secretary, Malcolm Steevens.
Alan Dommett, our current B&DCL President (since 2003) who has also served as the Bournemouth Daily Echo Chess Columnist and Newsknight Editor.
And last but not least is the B&DCL's longest serving officer, Steve Culleton, who was its Secretary 25 years from 1993 to 2018 and is officially 'Top of the Pops'!

5. Bulletins on our other local chess activities
The Dorset Chess Website and how it has evolved since 2004. During Lockdown, we have needed this more than ever!
The Rise and Fall of the Bournemouth Evening Echo Columnist up to its final curtain in 2011 – the end of an important era.
The Newsknight magazine – 28 editions from 1993 to 2006 – providing a good source of material for many of these bulletins!
The Bournemouth Echo Problem Solving Competition spanning a number of decades. Without the aid of chess engines at the time many of the participants burnt the midnight oil!
The Dorset County team which used to play in the National Counties Chess Championships for many years before our participation finished in the noughties. One of our players (see further below) used to cycle to these events!
The B&DCL Team Lightning Championships which were held for many years in the 70s and 80s at Kinson (Pelhams).
The County Correspondence Chess team until its recent demise which was mainly due to the increasing strength of chess engines and the easy accessibility of internet chess. Why play a game over 3 years when you can complete it in 3 minutes!
Trips abroad organised by Poole Club Chess International (and mainly by Roy and Betty Milner) for a 20 year period from the mids 70s to the mid 90s when, perhaps the number of bottles of wine consumed was more than the number of points scored against foreign opposition!
The daytime chess club at the Caffe Tratt in Swanage.
Online chess and how it has been our chess saviour during recent Lockdown times! Lots of great tournaments including the fortnightly Team Battle.
Outdoor chess in current times but not as we know it (see picture below of the Purbeck Chess Club meet up). Not sure if garden meet ups will happen much over the Winter!
6. Bulletins on our local players
We have provided full reports on a couple of interesting players, Greville Marples and Mike Yeo, who have enriched our local leagues in different ways. As we know, Greville (pictured) used to cycle everywhere including to an ECF Council meeting in Birmingham! Rumour has it that he got married on his bike.
7. Bulletins covering 'detailed games analysis', mainly from our local players
Dorset's own Welsh Chess Champion, Allan Pleasants, pictured
Dorset's own current FM titled player, Mike Waddington, our only one, pictured
Interesting Openings (Animal Openings, Bashing the Birds, 7 Deadly Sinful Traps for Black, Halloween Gambit, Xmas Opening Gifts and Gaffs)
World Chess Championship Games including a game by a local player, Phil Taylor-Bowd, against Garry Kasparov, the World Champion in 1993
Chess Blunders!
The 2016 British Chess Championship Games
Chess Variants!
And finally our bulletin last Saturday on 7 more exciting short games
Feedback
But as mentioned in the Introduction, what we do not know is what type and style of articles you enjoy reading the most, and most importantly, if we are doing a good job and what sort of articles would you like to see more of in the future?
Please help us by having your say on the content of future bulletins and any other local chess matter using the Feedback Form below. As there is unlikely to be much face-to-face chess for many months to come we would also welcome articles from other contributors.