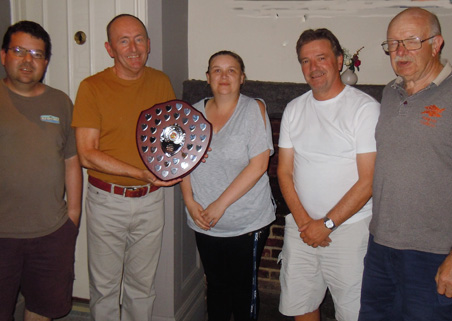 Highcliffe Castles win Keith Bateman Memorial Trophy; Final Table
24 players in 6 teams from Salisbury, Highcliffe & Ringwood, including players from Southbourne, packed into the White Hart Ringwood Thurs night, 5 July. They were taking part in the inaugural Keith Bateman Memorial Trophy. It was excellently planned, organised and run by Ringwood's Pete Donaldson, who in his opening welcome remembered the life of popular Keith Bateman.
Keith, a stalwart of Salisbury Chess Club for many years sadly passed away last year and tributes were paid in his honour and memories of him shared, throughout the evening.
Pete ran it as a team event, 10 minutes each a game, but with handicap adjustments for gradings. For example, if the grading difference between 2 players was 30 grading points, the stronger player had just 6 minutes for the whole game and their opponent 14 minutes. This format led to very even contests with the result of the tournament in doubt until the very last round. Ringwood Best needed to win their last match against Highbury Nomads, but could only draw. As a consequence, even though Highcliffe Castles were narrowly beaten by Salisbury Woods, the Castles came out on top.
Although a team tournament, a special mention to Roger Howell (Highcliffe Castles) who scored a maximum 5 / 5 and Adam Ursell (Highbury Nomads) 4.5 / 5.
Owners of the White Hart, Marstons, gave generous sponsorship for the superb buffet mid-evening and of course, provided the venue.
There was a great sense of fun and enjoyment, in an often noisy and vibrant atmosphere for this event, which brought together many friends from the 4 clubs involved. The organising, given each team played 5 matches, was very complex, but conducted most efficiently by Pete.
Pete had arranged an excellent trophy with Richard Ursell. This was won by one of the Highcliffe teams, Highcliffe Castles whose Captain was Rob Halse. Winning team pictured, with Gemma who presented on behalf of the White Hart Manager Amanda. Highcliffe team was (from the left – Christian Westrap, Rob Halse, Roger Howell and Ron Salinger)
It was a wonderful evening and a fine tribute to Keith Bateman, who would have been proud of all the efforts.
Final Table
| | | | | | | |
| --- | --- | --- | --- | --- | --- | --- |
| | P | W | D | L | P | GP |
| Highcliffe Castles | 5 | 4 | 0 | 1 | 8 | 13 |
| Ringwood Best | 5 | 3 | 1 | 1 | 7 | 12 |
| Salisbury Woods | 5 | 3 | 0 | 2 | 6 | 11 |
| Salisbury Stones | 5 | 2 | 0 | 3 | 4 | 9 |
| Highcliffe Nomads | 5 | 1 | 1 | 3 | 3 | 8 |
| Ringwood 49ers | 5 | 1 | 0 | 4 | 2 | 7 |