Big attendance at B&DCL AGM, 12 June – Poole honoured
There were special congratulations at the AGM for Poole who won 3 of the 4 B&DCL Divisions they entered, plus the Handicap Team KO Cup. It was an outstanding performance. Pictured here on behalf of Poole, Michael Duggan (centre) and Eric Sachs (right) with Pete Donaldson presenting the Div 1 Championship board. Highcliffe A were congratulated on some excellent play to win Div 2 and so were Southbourne E, Champions of the new Div 5.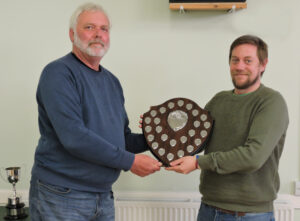 Not only did Poole win 3 B&DCL Divisions, they also become B&DCL Handicap Knock-Out Champions, beating Wimborne in a close final which went down to the final game. In this picture, John Weatherlake (on the right) collects the trophy from Peter Donaldson.
And next week at the Dorset County AGM Poole will collect a 5th trophy for winning County Div 3. They so nearly won County Div 1 too, having held a healthy lead for much of the season. It is believed to be the most successful season ever by a Dorset club!
The proposal to trial Time Increments in Div 1 was approved (1hr + 30 secs a move), with an option for matches in leagues below, if captains agree. LMS will go ahead next season for results and league tables. Eric Sachs reported a hugely successful year for Junior Chess, especially Saturday mornings at Bournemouth Library where attendances have far exceeded any expectations (to see Eric's full report pleased go to "Junior Chess" on the main menu. The new Bacchus League is supported, but also has to be put to the County League AGM on 20 June.
Steve Culleton (on the left) with Martin Simons, was sincerely thanked for some 23 years as League Secretary – he hands over to Peter Donaldson. Mike Davidson takes over from Pete as League Treasurer.
The proposals below, including rule changes were agreed:-
The points below apply to both AGM's.
After trialling the ECF League Management System (LMS) for this season just finished, clubs in both Leagues will be asked to vote on whether to make it the principal system for recording results of matches and creating league tables from 2018/19. If the vote is in favour, the current website will continue, but will not feature results and league tables from now on
There will be a discussion and then a vote on whether to adopt Time Increments for League matches. The proposal on the table is to apply Time Increments in both Div 1's for next season and in the B&DCL to allow Time Increments in all Div's below Div 1, but only if both Captains agree in advance and, of course, digital clocks would need to be available. The time control would be 1hr + 30 secs a move. The County League AGM will need to decide if they also wish the option of Time Increments below Div 1
GDPR. Update on actions taken so far to comply with the new Data Protection legislation
Bacchus. Clubs will be asked if they approve setting up a new Bacchus League for players <grade 100. The proposal is that, if agreed to, it would come under the DCCA, but would be independent of the B&DCL & CL for player registration, promotion/relegation etc. Every team entering would receive a cash prize towards club funds and there would be no fees in the first season, at least
The League Controller will be proposing a voluntary code, applicable to participating clubs, to try and minimise changes in the dates of fixtures once the season has started. Also, the League Controller will update on how the "Captains Notes" will be improved during the summer to be more helpful
These apply just to the B&DCL and are rule changes
To reduce the penalty for mobile phone accidental sounding during a match (Rule 11)
To make it clear that the rule on ties on match points at the end of the season also applies to relegation (Rule 4c)
To remove the need to have teams playing in order of strength (Rule 4b) – but 10 grading point rule etc would still apply
If LMS is adopted, Rule 12 on Notification of Results would need to be amended
link for images from the presentation: https://mikejay.smugmug.com/organize/BDCL-AGM-12-June-18