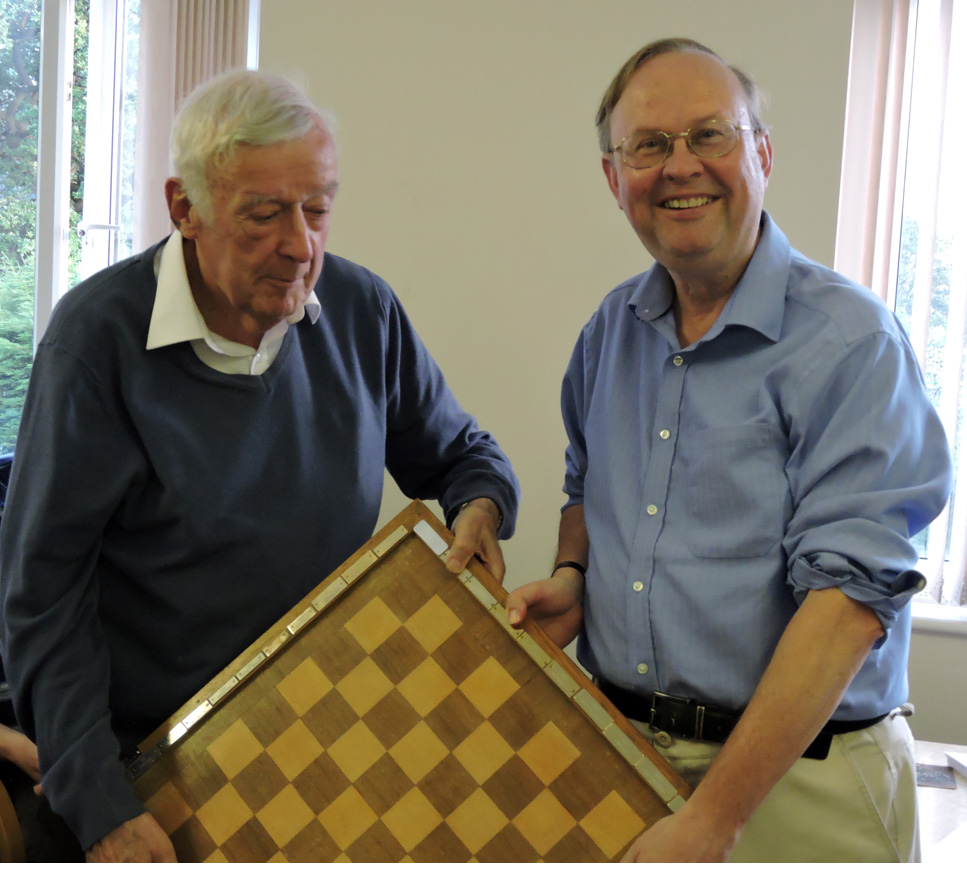 Dorset League hold AGM 20 June @ Poole
Main picture Weymouth's Chris Johns (on the left) presenting the Div 1 Championship board to winners Wimborne A & Ian Clark. Ian received the board on behalf of Wimborne A Captain Mark Littleton. The AGM was told by Treasurer Steve Peirson that the Association had made a surplus in the year to 31 May '18, helped by a generous decision to donate funds when Bridport closed. Martin Simons is the Auditor. The 3 County Leagues had all been very close and each went down to the final matches. Poole A, after leading Div 1 for nearly all the season, were pipped at the end by Wimborne A.
Ian Clark said the 52nd Dorset Open had been very successful with over 100 entrants. Steve Peirson was also pleased to report a good start with the 1st Dorset Blitz in September at Furzebrook. And the 23rd Rapidplay had 48 entrants who battled through snow in March
Wimborne B won Div 2 on equal league points and 0.5 of a game point from Purbeck A.
Pictured Wimborne B Captain Colin (left) receiving the Div 2 shield from DCCA President Ian Clark.
Poole B lost only 1 match in winning Div 3, but were pushed all the way by Wimborne C who were just 1 league point behind.
And like the other Divs, it went down to the final matches
Pictured Poole C Captain Tarik (left) receiving the Div 3 shield from DCCA President Ian Clark
The meeting supported a 1 year trial to use Time Increments in Div 1 next season, but not in Divs 2 & 3 at this stage. Clubs agreed to help each other if digital clocks were not available. The time control will be 1 hr and 30 secs.
There was also support for the new proposed Bacchus League, aimed at players <grade 100. Though supported by B&DCL & DCL, it will be run independently of both leagues, so will not affect eligibility. There will be no team entry fees and all teams will receive £20 each towards club funds as a result of some sponsorship. Games will be graded. Teams can be 3 or more.
Ian Clark said that 28 had now entered the new, one day, Dorset Closed being run in 10 days time on Sun 1 July at Merley. Details on the website and there are places available in all sections. Ian also mentioned other events including the 2nd Dorset Blitz in September, the Dorset Open in October and a Southbourne evening Blitz in July. Full details, including entry forms on the website.
Members attending the AGM felt it had been a most successful year with many events and incredibly close finishes in all 3 Divisions.