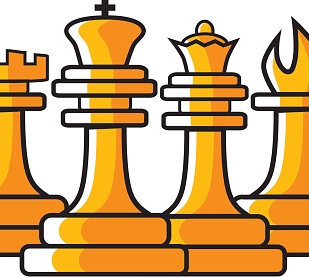 Dorset Junior Chess – Friday evening online chess event
On Friday 13th (but definitely not unlucky) November, Dorset Junior Chess ran a highly successful and enjoyable online chess tournament followed by an interactive chess lesson.  The tournament was run on Chesskid.com with 6 local juniors battling it out across the virtual board.
The tournament was won by Jack who beat Harry in an exciting close game in the deciding final round. Well done to Jack and to everyone who took part.
This was followed by an interactive chess lesson using a combination of Chesskid.com lessons, and the Jitsi meeting platform, including analysing the position using Chessbase. This week's lesson covered important opening rules and was illustrated by a position from a well-known past game.
It was fantastic to see the junior players offering suggestions as to the next best move!
Coaches on hand were Andy Baskett, Martin Simons, Martin Clancy and Nikki Forster.
The whole evening proved very successful and lots of fun.
Regular future event
We hope that this is likely to become a regular event so any juniors who would be interested in joining please contact [email protected]  for details of how to join.
The sessions will include an interactive lesson and a Chesskid.com tournament. The tournament is set up to give everyone an opportunity to play in each round (so isn't a knockout). We just ask that players please join at the beginning of the tournament as it is difficult to join later once the tournament has started.
We look forward to seeing you all very soon!