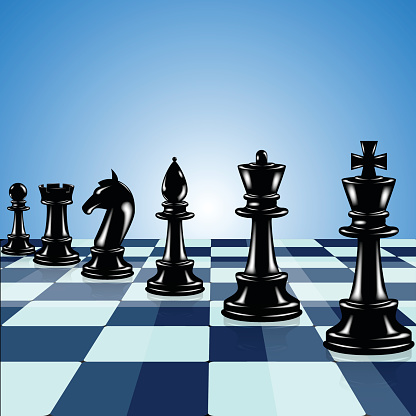 Western Counties Championship – Dorset & Wilts draw with Hampshire
The second round of the Western Counties online championship took place yesterday.   Dorset and Wiltshire faced Hampshire and drew 8-8 in an exciting match.
The match was full of interesting chess and quite a few critical moments that went in both directions.  A few stood out as I watched the games.
Captain Ian Clark won quickly after his opponent, Fraser McLeod, went wrong in the opening and his position fell apart very quickly.   I give that game at the end of the report.
Bill Adaway, who had been pressing with a small edge for much of the game, later on survived a sticky moment where his opponent could have gained a winning advantage but missed his chance, and soon after a dead draw was reached.   Richard Ursell's game was complicated and topsy-turvy, with both players having big advantages at some stages.   When the dust settled it was R+3 vs R+3 on the kingside and a draw was agreed.  However, Richard's opponent could have won a pawn by force and it is far from clear that the position was drawn as Richard's king was cut off. Certainly in practice it would have been tough to hold.
Balanced against those were Malcolm Steevens committing what appeared to be a finger slip and putting his queen en-prise in a position where he had a piece for two pawns (and which the engines say is about equal).   Reenen du Toit had a level position when he put his bishop en prise followed by dropping his queen the next move.   I can't work out how these would be finger slips but clearly something went badly wrong.
In the meantime the top two boards contained smooth chess and the results went with grade.
The next match is against Cornwall on 21st February at 7pm.
Peter Anderson 8/2/21
| | | | | | | |
| --- | --- | --- | --- | --- | --- | --- |
| | Hampshire | | | Dorset & Wiltshire | | |
| Board | Name | Rating | "Home" Score | Name | Rating | "Away" Score |
| 1 | Martinez-Sykora Antonio | 2155 | 1 | Pleasants Allan | 2069 | 0 |
| 2 | Davis Tim | 1941 | 0 | Headlong Tim | 2088 | 1 |
| 3 | McLeod Fraser | 1930 | 0 | Clark Ian | 2050 | 1 |
| 4 | Chilton James | 1846 | 1 | Du Toit Reenan | 1908 | 0 |
| 5 | Negargar Mo | 1833 | 0.5 | Adaway Bill | 1881 | 0.5 |
| 6 | Cooper Malcolm | 1818 | 0 | Burton Ron | 1848 | 1 |
| 7 | Stuart Graham | 1773 | 0.5 | Ursell Richard | 1788 | 0.5 |
| 8 | Piecha Lukasz | 1739 | 0 | Headlong Georgia | 1757 | 1 |
| 9 | Moore Gillian | 1713 | 1 | Steevens Malcolm | 1750 | 0 |
| 10 | Blanden Edward | 1712 | 0 | O'Byrne Danny | 1743 | 1 |
| 11 | Jones Amanda | 1698 | 0 | Jones Tim | 1698 | 1 |
| 12 | Hamilton Melissa | 1660 | 1 | Ludlow Roy | 1675 | 0 |
| 13 | Feltham George | 1653 | 0.5 | Sandy Paul | 1618 | 0.5 |
| 14 | Culliford David | 1653 | 0.5 | Thompson Colin | 1570 | 0.5 |
| 15 | Lefevre Stephen | 1645 | 1 | Wieslaw Stanicki | 1390 | 0 |
| 16 | Willis Alan | 1615 | 1 | McCullagh Tim | 1300 | 0 |
| | | | | | | |
| | Totals | | 8.0 | | | 8.0 |